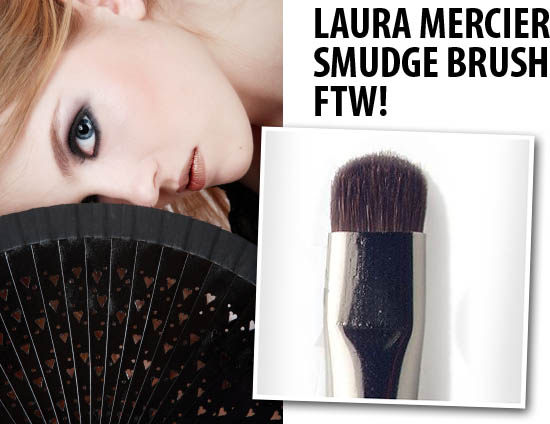 I'm not much of an artist when it comes to eye makeup, so I'm always appreciative of a helpful tool which makes the job easier. One such tool which I'm glad to have in my arsenal is a smudge brush - mine is from Laura Mercier, but you can also get them from NARS or Stila.
Made with very short bristles which form a gently-rounded shape, the smudge brush can be used to smoke out eyeliner or to pack in eye shadow close to the lashline. It's a versatile brush - I use it with gel and pencil eyeliner as well as eye shadow - and luckily for me, it doesn't require a whole lot of skill on the part of the user.
To use it with pencil, you can line the eye first with the pencil (don't worry about being too precise) and then smudge the line right into the base of the lashes as well as smoking it upwards towards the outer corner of the eye. A good tip I picked up at a Laura Mercier masterclass years ago was to apply the pencil liner to the back of your hand first and then pick up the colour from there with the tip of the brush to apply. This works well when you want a more subtle application.
Advertised
To apply gel eyeliner I like to slightly dampen the brush, then dab it into the pot a few times to pick up a small amount of product and work it into the lashline. It's a similar story with eye shadow; I pick a well-pigmented shade, pick it up with the tip of the brush and then work it into the lashes. I like to use this method after applying pencil liner when I want to add a bit of intensity to a look, but it's also good when I want a more low-key look and don't use any liner.
As I said above, there's not a lot of skill required to use this brush, whichever product you're using it to apply. Just hold the brush at a right angle to the eye, press the tip of the bristles into the base of the lashes and wiggle it a bit. If you want a more smoked-out look just move the brush out, press and wiggle again and repeat until you have the desired look! The short, firm bristles make it easy to put the product exactly where you want it and blend without any mess, so this is an ideal addition to your brush collection if, like me, you like your brushes to be easy to use. Happy smudging!