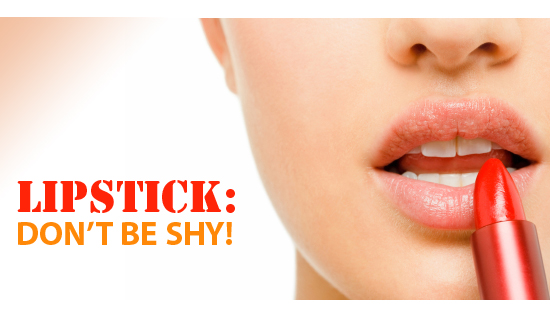 Aphrodite's Jocks Indicator post the other day had me very worried - and not just at the fact that someone ever thought it a good idea to pair a white mesh vest with mesh y-fronts (nor even the fact that one of the main selling points of this fetching line of undergarments was that it was machine-washable... ). No, my biggest concern was that all the glamour and fun involved in the Lipstick Index concept (or even the more timely Foundation Index) might be lost to the frankly much more depressing idea that men won't be buying any new jocks until the Current Economic Climate starts to improve.
I know a lot of women who otherwise love makeup have a bit of a fear of lipstick. And if all you're used to wearing is a clear or slightly tinted lipgloss, lipstick can take a bit of getting used to. But the payoff is worth it, and particularly at this time of year.
In warm summer weather you don't want to be wearing too much heavy makeup, but a slick of bright lipstick can instantly lift your face - all you need to complete the look is some mascara and a touch of concealer. And to be quite frank, if we can take attention off dodgy men's underwear from the 70s by going out and buying one little lipstick, I think it's our duty to do so! If you have any doubts, read on for some tips which may help...
Advertised
Prepare your lips
Lipstick applied to dry flaky lips will look patchy and uneven - gently exfoliate your lips with a muslin cloth and warm water and apply a hydrating lipbalm afterwards. Allow the balm to sink in while you do the rest of your makeup and then blot off any excess.
Go sheer
Sheer lipstick formulas are perfect for anyone who fears the "clown effect" - you get the benefit of the colour payoff without looking as though you've been playing in Mammy's makeup bag. If you've always wanted to try red lipstick, but never thought it would suit you, a sheer formula lipstick might be just what you need.
Try Armani Sheer Lipstick no. 31 - a bright raspberry
Use your fingertips
If a lipstick looks too strong applied straight from the tube, try pressing the colour into your lips with your fingertip instead. This gives a more muted look and is also great for dress-down situations such as going to the beach.
Try Revlon's new matte lipstick in Strawberry Suede for a great summer bright with a modern finish
Use a lipbrush for strong colours
Strong colours like red can look very harsh applied straight from the tube, especially in a very pigmented formula. Applying the colour with a lip brush lets you wear the colour rather than the lipstick wearing you.
Try Bourjois Sweet Kiss lip colour in Rose Paré for intense colour in a comfortable moisturising finish
Make it last with lip pencil
If you want your lipstick to last, apply a lip pencil first. You can use a colour that's coordinated with the lipstick, but try one that matches your liptone if you don't want to overdo it - this gives the lipstick a base to cling onto, without adding more colour to your face. Apply the pencil in feathery strokes and blend to fill in the lip - drawing a harsh line around the lips just looks dated. If you want to give your lips definition, try lining the cupid's bow, but fade the line out before it reaches the edge of your mouth.
Try Shiseido's Perfect Rouge Lipstick and the Smoothing Lip Pencil, available in coordinating shades from neutral pinks to strong reds