 A few years ago, I began the arduous task of searching for the perfect red lipstick. Now, you know as well as I do that finding the perfect red is as difficult than perfecting a DIY fifth avenue blow dry (I've given up completely on that one), but I stumbled across one that really was great.
Alright, I admit it, I had a bit of help. I can't remember where I read it but some publication recommended this one and two others that I also forget (but I imagine that one of them was probably Mac's Ruby Woo). As is the case with Ruby Woo the 'perfect red' should suits everyone. It should also brighten your teeth rather than enhance the yellow, and that's when a cool base with blue undertones matter.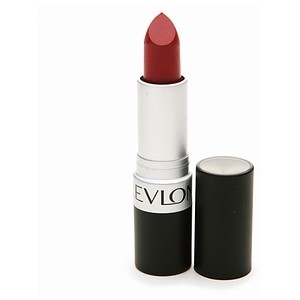 Revlon Matte lippy in 007 'In the Red' was (and still is, if you have a tube) glorious. It's genuinely the best lipstick I've ever owned and it cost under a tenner at the time. Revlon's Matte lipstick formula is creamy, non drying and extremely long lasting - much more so than the red Dior lipstick I used after I lost my perfect red.
Or thought I lost.
Advertised
I had a rummage through my four makeup bags during the weekend and what rolled out but my In the Red. Oh, how I rejoiced! I had to go out that night just because of its prodigal return.
I'm afraid I don't know if they make it anymore, although the Matte line is still available, but if I remember rightly, Halle Berry fronted the campaign when it was released. I've got compliment after compliment since my re-discovery (because obviously, I've been wearing it every day) so I'm going to do a little digging online.
Have you found the perfect red? Do you own this particular lipstick or the famous Ruby Woo? When you do makeup bag clear outs do you ever find forgotten gems?