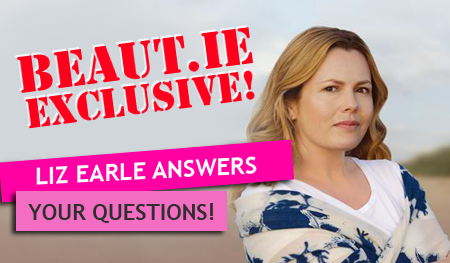 The very lovely and knowledgeable Liz Earle agreed last week to answer some beaut.ie reader questions, which is rather fabulous, as I think you'll all agree. The replies are in, and they're so damn good it would be a shame to waste them on just one post. So today, read what Ms Earle has replied to Roxette and Twinkletoe's questions on desert island must-haves and the new Liz Earle facial - ohh this is particularly knowledge-tastic.
I'd love to know what product of her own would she take to a desert island if she could only bring one thing?
"That is a ridiculously hard question! Please can I take three things?? I really couldn't be without Cleanse and Polish, Superskin Moisturiser and also Superbalm (for all the extra bits, like keeping lips soft and glossy, cuticles well-conditioned and even taming ends of flyaway static hair frizz). We christened it Superbalm because it comes to your skin's emergency rescue - just like Superman. But then again, I'm also never without our Nourishing Botanical Body Cream, which I consider a complete essential – and obviously, I'd need my Sunshade mineral-based Facial Protector too… sorry, I've really failed to answer the question…"

I'd like to know about the new Liz Earle facial available in London - what is involved in the treatment and could she suggest an alternative home facial we can do with her products?
"Lasting a luxurious hour and a half, our brand new Signature Facial really is a truly pampering treat that delivers outstanding results. Truly bespoke, the facial is tailor made to your personal skincare needs so whatever skin type you have you will see a visible difference to your skin after your first visit.  So if you have dry, dehydrated skin you will see an immediate brightness in tone, clarity, smoothness and plumpness; normal skin will look radiant and problem skin clearer, calmer and soothed.  Having a regular facial once every 6-8 weeks is ideal, because they can help with ongoing skin concerns, whether they are hormonal, seasonal or age related. We use gentle galvanic current to help clear and boost the skin, together with vacuum suction lymphatic drainage techniques, which are only achievable as part of a professional salon-based treatment, but here's what you can do for yourself at home:
The most important part of any skincare regime is cleansing as it prepares the skin for the other products. Begin with Cleanse & Polish, applying 1 or 2 pumps onto dry skin and use your fingertips to gently massage the cream over your face and neck. Work in circular movements from the centre of your face outwards. Massage over eyelids and eyelashes last to avoid spreading eye makeup over your face.
Advertised
Rinse the pure muslin cloth in hand-hot water and wipe off the cream using a clean section for each part of your face.
Rinse the cloth thoroughly under running water during cleansing. Give the cloth a final rinse in cool water and carefully pat over the face and neck, then pat the skin dry using a soft towel. Follow this with our Instant Boost Skin Tonic before applying a few drops of Superskin Concentrate. Then follow with an application of one of our facial treatment masks – Deep Cleansing Mask if your skin is oily/problem-prone or Intensive Nourishing Treatment if your skin is dehydrated or more mature. Place a couple of cotton wool pads sprinkled with Eyebright Soothing Eye Lotion (chill first in the fridge, or swoosh a little around in a cup with a couple of ice cubes to quickly cool) over the eyes, lie back and relax for 10 – 15 minutes with your feet up!
Facial massage is an important part of your regime and also a great skincare 'top-up' between regular professional facials. Simple facial massage that you can easily do at home can help to combat a dull complexion and relieve stresses and strains, leaving your skin refreshed and rejuvenated, even if you have oilier skin.
Warm a few drops of Superskin Concentrate (2-3 drops is sufficient) between your hands cupping them over your nose and face (not touching skin) and take a deep breath in.  To de-stress, hold you hands over your face for 3 deep breaths and inhale your oil.
Simple massage moves for radiant skin:
Start at your jaw line: sweep your right hand (palms flat to your skin) downwards from the top of your neck (left side first) outwards across your décolleté to your shoulder. Repeat this move with your left hand on the right side.  Repeat 3 times on each side-this will improve circulation and help to boost your skin.
With flat fingertips pointing upwards, sweep hands from the middle of your forehead up towards the hairline and outwards towards the temples. Finish with a sweep under the eyes (along the bone) and repeat the move (a full circle) around the forehead and eyes x 3.  This will relieve tension in the head and reduce puffiness around the eyes.
With alternate hands stroke upwards along the middle of the eyebrows upwards along the forehead x 6.  This induces relaxation and will drain blocked sinuses.
To work the jaw line-gently pinch the chin and jaw line with your thumbs under the chin and fingers on top of the jaw line.  Massage along the jaw line (keeping thumbs under the jaw bone) outwards towards the ears.  Repeat x 3 to encourage drainage of fluid in the face and reduce tension (the jaw is the most common place in the face to suffer from tension!).
Advertised
These simple steps combine your favourite products with traditional massage and acupressure techniques, to help relax tensions in your facial muscles and give your skin a youthful glow whilst restoring your spirits. Try and do once a week and enjoy the visible results".
Tomorrow, find out what pearls of wisdom Liz has for questions on  rosacea-prone skin, her fave non-Liz Earle goodies as well as advice on a good skincare regimen for someone in their 20s-30s.