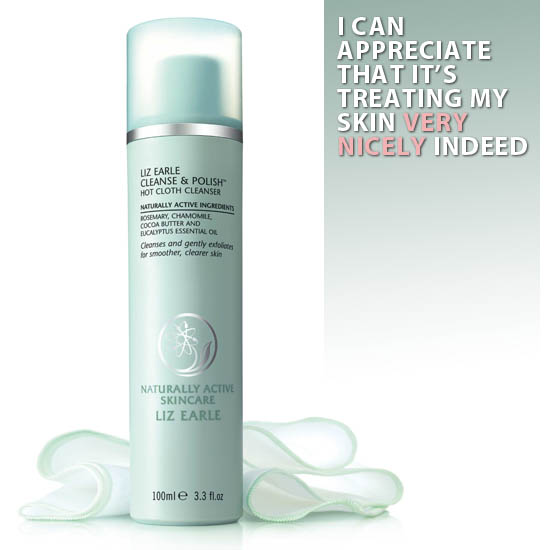 It's rated top notch by beauty eds and beauty nuts alike, but I wasn't mad about everyone's favourite  cleanser when I tried Liz Earle Cleanse & Polish four years ago. Yes, it smelled lovely: this is a plant-based cream that's chocca with gorgeous naturally active ingredients like hops, eucalyptus, chamomile, rosemary, and cocoa butter. Yes, the pump dispenser was very neat and handy. And yes, I did initially think the stuff was amazeballs, but then I never repurchased it when it ran out.
At the time, I just wasn't impressed with how it handled mascara removal and it seemed to take a minimum of three uses - apply cleanser, remove with cloth, repeat ad nauseum - to shift the rest of my make-up.
On a whim and with my budget-busting Eve Lom cleansing supplies at a low ebb, I recently decided to give Cleanse & Polish (from €15.50 from Lizearle.ie or from Wilde & Green, Dublin 6) another go. So I suppose I did technically repurchase it... eventually. This time around, I'm using a separate eye make-up remover - Sephora Waterproof Eye Make-Up Remover, FYI - and it's only taking one pass to remove my foundation. Huzzah!
Advertised
As ever, I apply Cleanse & Polish to dry skin, massage it in circular motions as usual, and wring out a muslin cloth in hand-hot water before polishing the cleanser off my mush for a two-in-one cleanse and exfoliate. I reckon that improvement in performance is mostly because I've significantly dialled down the coverage of my base - it's less spackle, more make-up nowadays - and since I'm not obsessed by how badly it's removing my make-up, I can appreciate that it's treating my skin very nicely indeed.
Despite the fact that I've been partying hard over the festive season, my skin is currently no more spotty or congested than usual. In fact, overall my complexion is looking brighter and it's also making a difference to the redness around my nose, chin and cheeks.
I won't be waiting another four years to repurchase this time.