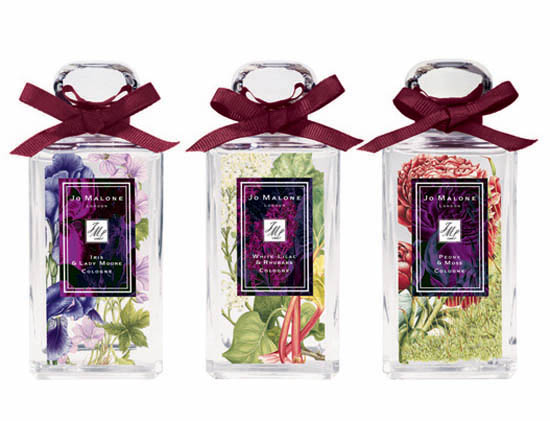 We're going to see more and more of these lovely patterned bottles from Jo Malone as it emerges, butterfly like from its metamorphosis from slightly fusty posh lady brand to younger, hipper gal about town label of choice. That's thanks in part to new fragrances by perfumer Christine Nagel, who's been responsible for the recent Wild Bluebell and English Pear and Freesia, both of which I loved, but they're not throwing the baby out with the bathwater or anything - you'll still be able to get old faves like Pomegranate Noir and Lime Basil and Mandarin. All the gorgeous touches like the signature packaging and bows (and prices, eek) remain, too.
But a move towards youth, fashion and design is definitely a new brand mantra and the recent appointment of style editor Charlotte Stockdale has rubber stamped the commitment made to the brand's new approach.  London Blooms, a trio of limited edition scents due for release in March, is a big part of that.  The heritage of the brand is given a nice nod with transparent botanical drawings on the front face of each, and the three scents, Peony and Moss, White Lilac and Rhubarb plus Iris and Lady Moore will be €84 each.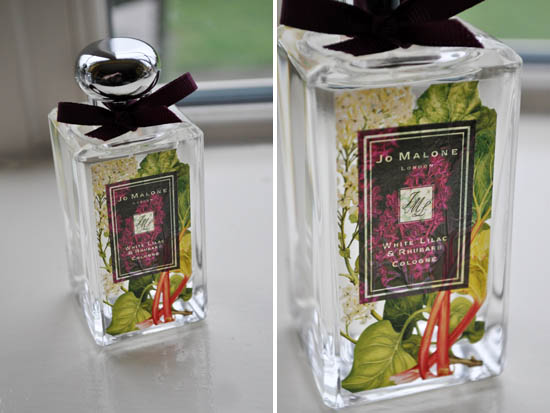 Advertised
I got White Lilac and Rhubarb ahead of release and wasn't absolutely cray-cray about it - something about the rhubarb note didn't quite grab me, but grabbing did occur: I opened it in front of Aisling who pronounced herself quite the fan of its light, sweet floral ways and swiftly divested me of it. So, it's a hit as far as she's concerned.
Peony and Moss, described as the "dainty and the dirty," sounds intriguing - floral and earthy, I'm going to aim to sniff this when it hits counters. Iris and Lady Moore is billed as a spicy-fresh blend of powdery and poised purple flowers on a bed of vetiver.
Liking the look?