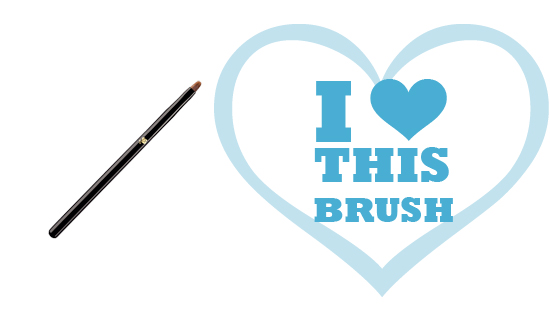 D'ya remember recently I got to go to Paris for a special bloggers event for Lancome's Autumn Winter collection, Declaring Indigo? Yeah OK ok, but I haven't mentioned it for ohhh, about a month, so I thought it'd bear saying just the one more time.
Anyway! One of the things makeup maestro Aaron de Mey mentioned at the time was that he was overhauling the line's makeup brushes. Two were rolling out with Declaring Indigo - an eyeliner brush and a powder brush, and we can expect more as the seasons roll on.
I've been giving the eyeliner brush a good old workout over the past while and it's become a fave. Recently, I've moved away from thin, paint-brush style liner brushes and find I like the short, firm brushes that you'll find in Bobbi Brown's lineup more. Lancome's version is very like Bobbi's, but it's better: it's got a nicely tapered tip, it's soft but very structured and firm, and draws a really nice line across lids, minimising drag and jagged edges. De Mey went to Japan to research the new brushes, and it's paid off: this is a great buy.
Advertised
€19 is the damage and you can get it at Lancome counters now.