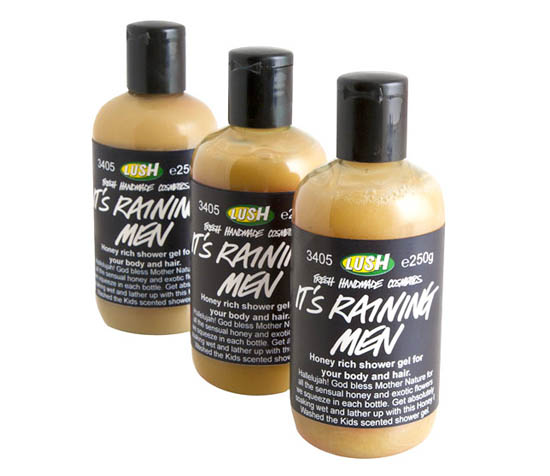 When it comes to Lush and liking Lush, I've tried. I really have. I've bought things. I've trailled things. But in my opinion, those messy-looking chunks of soap with bits hanging out of them and those madly-conflicting loud and in-your-face scents are completely off-putting.
Lush does send us the odd thing for consideration though.  And after all, this is a blog for its readers - plus I know lots of you like the brand.  So when a bottle of It's Raining Men shower gel arrived in the post - and I was coincidentally completely out of shower gel - I gave it a go. Out of everything Lush does, the bath products are the ones I'd be the most likely to buy.
The bang of honey-soaked sugary sweets off this when you open the cap is intense - the brand describes it as having a toffee-fudge scent. I like honey as a foodstuff, but I'm not into the smell of it.  So me and It's Raining Men didn't get off to a great start. Thankfully things improved when it was squidged out and applied in-shower. The overly-sweet perfume dissipated quickly and didn't linger on skin post-bathing, for which I was eternally grateful.
Advertised
Honey's a known natural skin softener so as a shower gel ingredient it's a sensible one. This isn't moisturising though, but neither is it particularly drying. It's not sticky, so fear not, and also includes ingredients like lotus flowers, rosehip and some essential oils for added benefits. It's not a 100% natural product either - the foaming agent SLES is included, and there are paraben preservatives too.  Honestly, considering what's in it, this should pamper skin a lot more than it does. And if you're after a natural solution this ain't it either.
While I won't repurchase, if you a) like Lush as a brand, b) love sugary scents, c) aren't bothered by foaming agents and d) like to be able to buy a small size of a product before you commit to a big one (this comes as a good-value 110ml for €5.45), then it's a good bet you'll get along swimmingly with this.