 Lush's 'Let The Good Times Roll' was a cleanser originally released for Christmas but recently made a permanent product. I haven't tried many solid cleansers so I was interested to give it a go, and even moreso when I realised it had cinnamon in it - my ultimate weakness!
It is actually made of maize flour and polenta to gently exfoliate while the added cinnamon is said to stimulate the skin, leaving it soft. My first impression when opening the tub is how much it smelled like porridge. Porridge with banana and honey, to be exact. I couldn't stop smelling it and was quite tempted to give it a lick. But I was a little unsure about how I felt about rubbing it on my face. Lush actually claim this has a butter-caramel scent but I don't get that at all and I certainly can't smell any cinnamon which was disappointing.
I gave it a go in the shower, taking a small chunk from the pot and allowing it to melt under the hot water before rubbing it into my face. It contains actual pieces of popcorn in it which left me a little confused - sure, they may act as an exfoliant but do I really want to stand in the shower, rubbing myself with popcorn?!
It also contains corn oil which hydrates the skin as well as helping it retain moisture and elasticity. I could definitely feel an oiliness to it as I rubbed it in and afterwards my skin did feel soft, supple and wasn't screaming out for a moisturiser. The real issue I had was the texture. It just felt rather unpleasant!
Advertised
Lush advise you against eating this but let's just say, a small bit slid into my mouth and I'll admit, it definitely does not taste as good as it smells. It is quite vile actually.
While my skin felt nice after use, this is something I have been reserving to use in the shower. I don't think it would do anything if I attempted to take my makeup off with it. Despite its exfoliating properties, it is gentle enough to be used daily.
My thoughts on this product were actually influenced a little by something my fiance said. When I first opened it, I gave him a sniff and he said "I know they try to use natural ingredients and all but I think they are getting ridiculous. They'll stick any old food in a box and people will rub it on their skin". Now, I should point out here that he has been reading a lot of Karl Pilkington books lately, but I still think he has a point.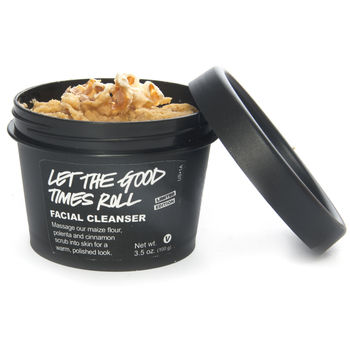 Sure, we are starting to learn about the dangers of some chemicals used in products but there are many natural products on the market that don't involve half the contents of someone's fridge. Would my skin really benefit if I took the canister of cinnamon from my press and dusted my face in it as if I were a gingerbread latte?!
Advertised
I probably don't read into product ingredients as much as I should but I don't feel a chemical or two will kill me. But what do you think? Are you a fan of food-based beauty products? And if you are, do you just rustle up your own face mask at home? Tell us in the comments!