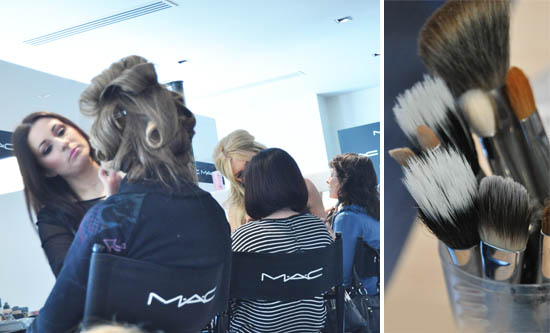 I took myself down to Mac's artist suite at the Gibson Hotel on Saturday afternoon ahead of the IFTAs, held that evening at the new National Convention Centre. Last year we shot a couple of red-carpet/big event-suitable looks but this year I asked you lot what sort of looks you'd like product recommendations for.
Kim Kardashian's makeup came up trumps, with several of you keen to know what she expertly blends on her mush, and other requests were for a good sheeny daytime shadow, suitable reds for Irish skins and erm, how do you contour, then?  Other Beaut.ies wanted recommendations for wearable berry lip shades and the best liquid liner.
Mac's senior artist in Ireland, Lesley Keane, was on hand to lend me her vast product expertise and tips. So, lets go!
KIM KARDASHIAN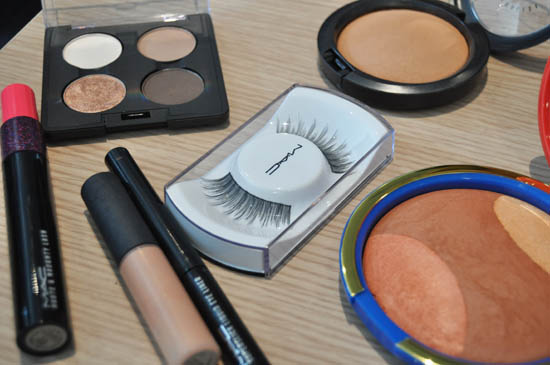 Lets tackle Kim K first, shall we? Lots and lots of bronzer, contouring, blending, blending, blending, shimmer and lashings and lashings of lashes epitomise her look, and here's what Lesley reckons you could use to get the same effect.
We'll take a closer look at the biggest elements of her look, shadow and bronzer below. Some of the other products you can try to include Haute and Naughty Lash mascara. This is very like Bourjois' Volumizer Mascara in that it's got two chambers with different aperture sizes so you can get more or less on the brush, depending on your requirements. Also good for the Kim K lash effect would be Mac's N02 Lashes and for liner, Lesley recommends you give Superslick Liquid Eye Liner in On The Hunt a go.
And, eh, what about that famous pout? Kim keeps it glossy and nude so the one to try alongside your super-contoured cheekbones and smokey-to-the-max eye is Wildly Lush Plushglass.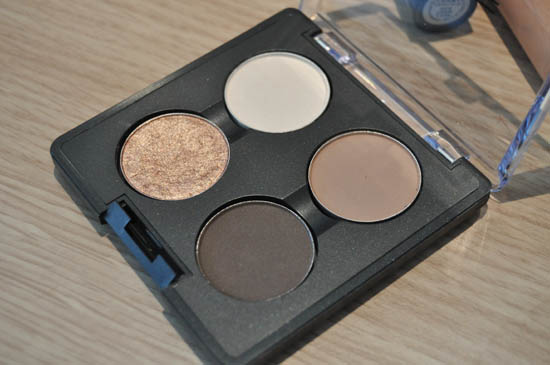 Here are some shadow shades the Mac gals thought would work for Kim's signature smokey eye. We've got Mylar (the bone shade to the top left), Wedge (the mid-toned brown beside Mylar), Brun (the deep brown shade) and Honey Lust (the golden-bronze shimmer).  Do note these shades don't come as a standalone quad but you can buy them singly plus an empty palette and put 'em together that way. They're all permanent collection items too, so no pesky limited-edition carry on here.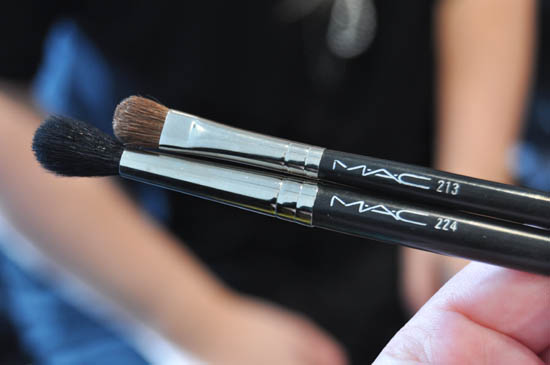 Kim goes for a very specific look with her eye makeup. It's all super-blended yet quite defined - she pulls the colour up from the side of the eye out towards the brow for a smokey look that's angled. She'd be using a compact blending brush like Mac's 224, Lesley says, as well as a regular flat shadow brush for product placement, such as a 213.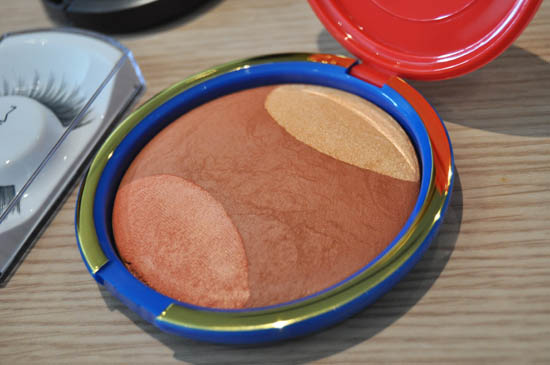 Bronzer! Lesley reckons one of the absolutely bleedin' massive Mineralize Skinfinish pans from the Wonder Woman collection would be ideal for keeping up with Kim as there are three shades for bronzing, contouring and highlighting.  I'll have more on WW later this week and it'll be on counter at the beginning of March.
RED LIPS FOR PALE IRISH SKINS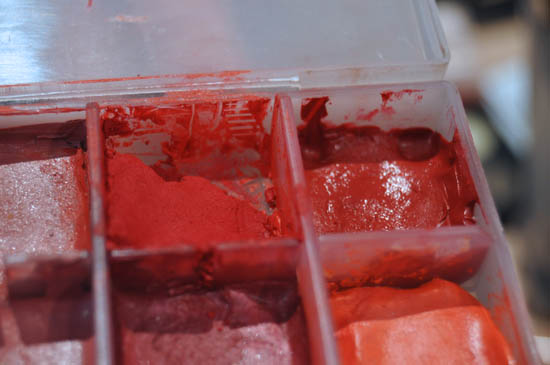 Lesley tips the nod to two of Mac's crimson stalwarts: Ruby Woo (left), is a matte blue red that's great for anyone with a milk-bottle complexion. This is the one I use, but if you have a slightly more sallow undertone, check out Russian Red (right). It's got a bit more brown in the mix and has a different finish - it's more satiny.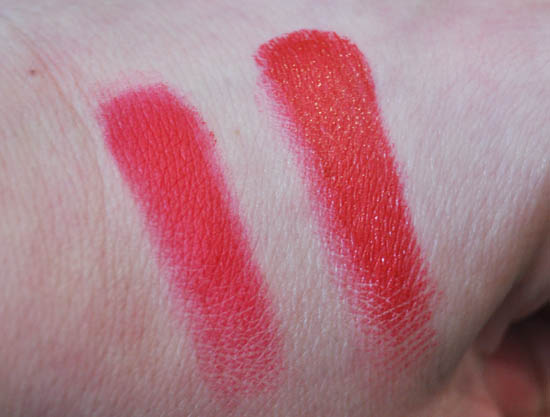 Swatches of both: Ruby Woo on the left and Russian Red on the right.
A GOOD SHIMMERY SHADOW TO TAKE YOU FROM DAY TO NIGHT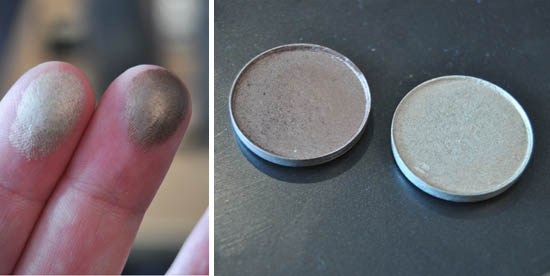 Advertised
SJP's Missing Mole requested "a one-step sheeny eye. You know, the type that you just swipe on with your finger and it's all sheeny and slightly-shimmery-but-not-glittery-or-sparkly THEREFORE you could wear it from day to night without any messing around."
Right so, miss. Lesley suggested Mac eyeshadows in Vex or Satin Taupe. The latter is the taupe-y/mink-y shade above and Vex is a more brightening neutral. Because they're both quite shimmery, they can look a little complex all on their own and that makes them good for a day-to-night situation.
SUPER CONCEALER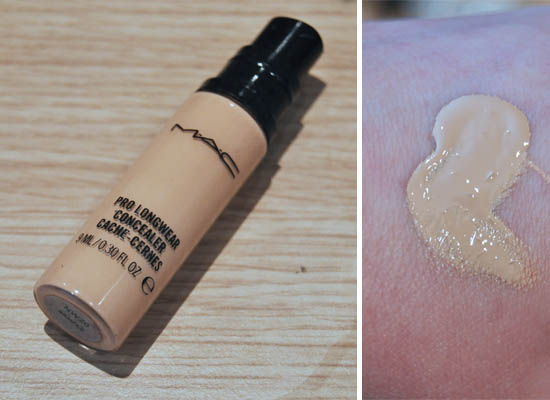 Dark circle camo and something to cover acne were also requested. "Aha," nodded Lesley, "it's absolutely got to be the new Pro Longwear Concealer." This is a relatively recent addition to the Mac stable and is joined by Pro Longwear Foundation as a companion product.  A deeply pigmented liquid concealer, Lesley says it's the best thing to use for covering spots, as - and yes, this is gross - the liquid can 'seep' into the top of the blemish and cover it without it looking flakey.
Similarly, this covers dark circles well because it's pretty much industrial strength. For the eyes, you can use your finger - "but pat, don't rub," she warns.  To cover spots, Lesley's advice is to use a brush, to really work the product into the skin.
CONTOURING 101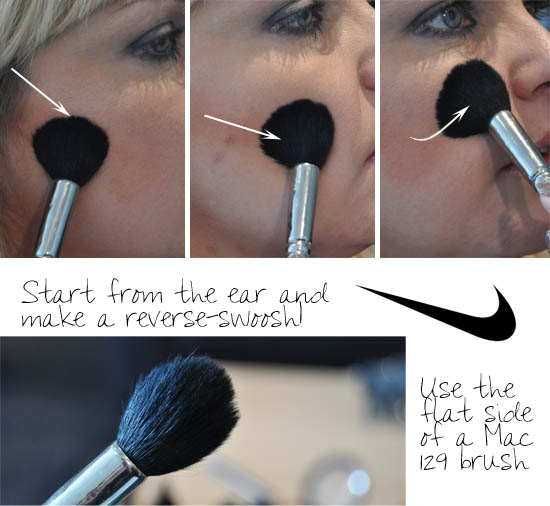 I'm no makeup artist but I'm pretty OK with the makeup skills I have. Sure, I could always extend my repertoire and the one thing I'd love to know how to do with confidence is to learn how to contour. Seems I'm not alone - a pile of you had the same request. Lesley enthused again about the forthcoming Wonder Woman Mineralize Skinfinish compacts and explained how you'd go about getting the contour into place.
Start just above the ear and take your brush (she recommends using the flat side of a Mac 129 powder brush) almost right down to the nose, and then angle it upwards into the cheek. Think of it like a reverse Nike swoosh! Psst: blend it out a little if the edges look harsh.
BRILLIANT BROWS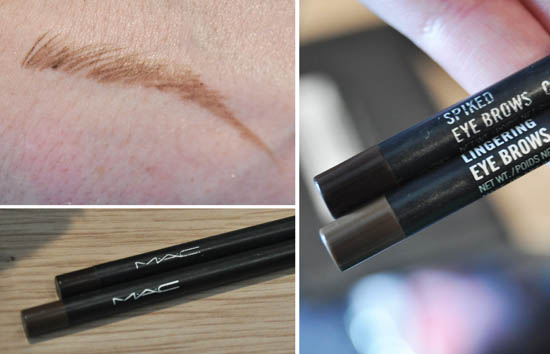 "Eyebrows," said Princess Lisa:  "What product really gives that sharp defined eyebrow that I can never seem to achieve!" This was another request that was simple for Lesley to sort. Mac's Eye Brows propelling pencils are very fine-tipped and can be used to mimic individual hairs - you can see a mocked-up brow above. Lesley used two shades here - Spiked went first and then she added in definition with Lingering, a lighter shade.
LIQUID LINER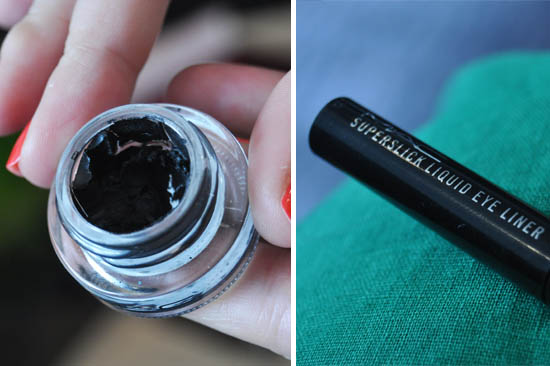 We'd loads of requests for liner as well: while I don't have a 'how to' for you on this, here are Lesley's fool-proof product picks. On the left is Fluidline in Blacktrack, one of the brand's best sellers.  This'd be my preference because I go for gel formulas and I like to use a brush, but Lesley opts again for Superslick Liquid Eye Liner in On The Hunt. This has one of those felt-tip type nibs that you can press along the lash line to get your shape and it leaves a slightly 'plastic' finish that's long lasting.
The biggest thing to keep in mind when you're aiming for world class flicks is don't be too hard on yourself. "Q tips!" laughed Lesley, who reckons liner and little fixes go hand-in-hand. No one gets it right all the time and it's easy to forget when you're looking at pictures of flawless faces of makeup that every single thing went right throughout. Most likely, lots of adjusting, fixing and tidying up was a part of the process, so don't for a second feel bad if you need to stop to adjust a wonky line or re-adjust a curve.
VERY BERRY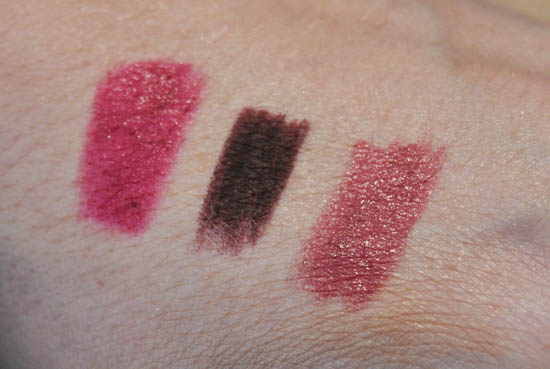 Last up is wearable berry shades. Every Autumn without fail beauty brands declare that berry is in - sigh - but it can be a really scary shade. What'll work on differing skintones then? Rebel, left, is fab for sallow-skinned blondes, Lesley says. It's a bright, trend-led shade and it'll really bring out green eyes.
Next up, Lesley recommends Media lipstick. The swatch here is actually a lip liner but shade-wise pretty much matches the lipstick, which is, fact fans, the one used on Rebecca Ferguson during XFactor. It's particularly good on black skins and has a satin finish.  Lighter skins will get on well with Capricious on the right, a rose plum lustre.
Advertised
So, aching hand and strained eyes, that's it from me and Mac.