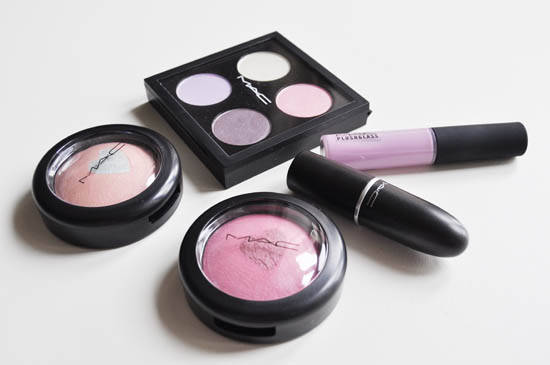 A warning: if you like heavy, Homer Simpson Makeup Gun style lashings and lashings of pigment then look away now; Mac Quite Cute is not for you.
This is a candy collection filled with soft shades and whisper-light finishes in pastel tones of pink, peach, mint and lavender. It's well named - quite cute. It's a bit like Mac shrugged their collective shoulders and knew that it was, y'know, sorta nice, but not REALLY really adorable. The brand has slightly damned this launch with faint praise from the off with the name and it's nice alright, but I think it is one you won't be too sorry you missed, put it that way.
I got samples of five pieces from the 22-strong collection to try: two blushers, the shadow quad, a lipstick and a Plushglass. Above you're looking at the stuff I had to play with, and at the end of the post I'll summarise everything and give prices, so lets get stuck into some pix and swatches of the quad of goodies I had to test.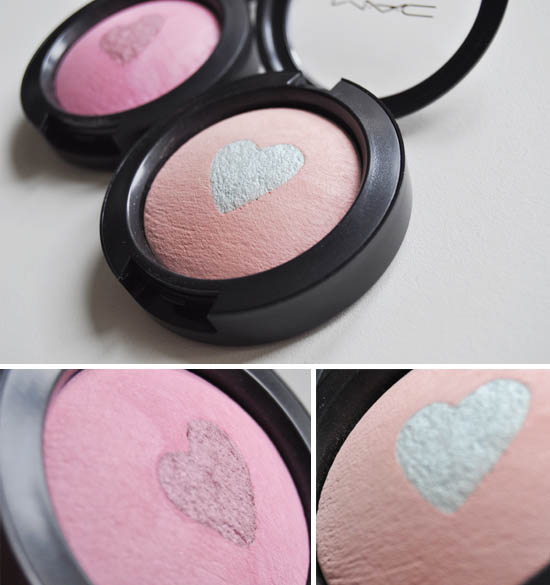 Now, these are quite clearly, quite cute. Aww, they've even got a little heart embossed into the centre of 'em and all. The Mineralize Blushes are my pick of the bunch and come in three shades - above you're looking at Miss Behave (the peach) and Giggly (the pink). There's also Sakura, a lavender with a magenta heart and each costs €24.50; all are limited. Sweet to look at they may be, but belying their baked status - which normally means payoff - these are very sheer.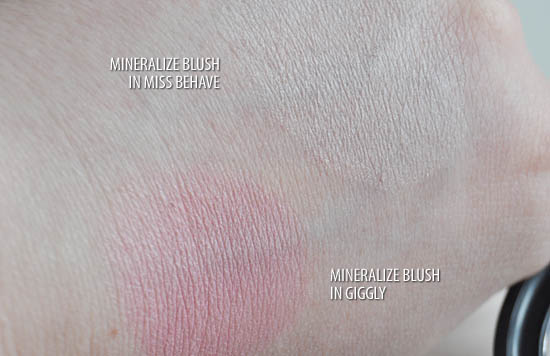 In Miss Behave's case, that avocadoy-mint heart does a really weird thing to the finish when you swirl the two colours together and you end up with what can only be described as a highlighter. A weird, grey-looking highlighter at that - and I'm not sure who it'd flatter. You can't really see it here because once again the light was bad, but there are some chunks of glitter in the mix too and all in all, this isn't nice. I wouldn't use this.
Giggly is clearly the winner of the pair. It's a soft pink that takes a slight iridescent shimmer from its purple heart to add a bit of an extra dimension. The heart is softer than the surrounding powder by the way, so prone to crumbling. While these are the nicest things I tried in all honesty I can't really see what those hearts are bringing to the party at all except a little visual interest.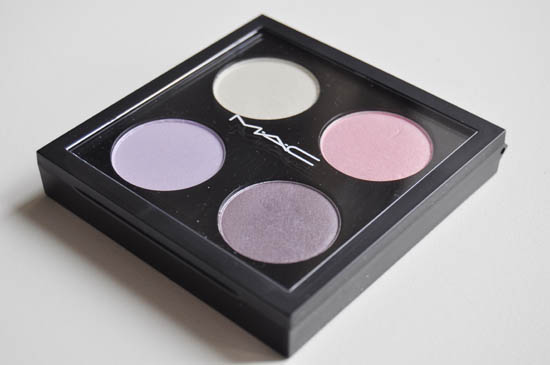 Here's the Shadow Quad in Cutie. It's €47.50 and contains four limited edition shades: Goody Goody Gum Drop (the pink), Boycrazy (lavender), Moshi Moshi! (the pale greeny-white) and Azuki Bean (lavender). All are frosts or satins or lustres; there's not a matte in this quad.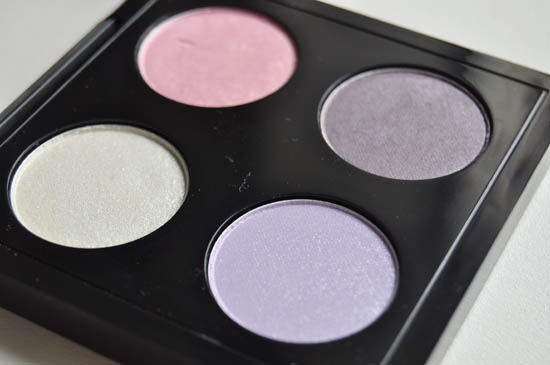 Here's a closer look at the colours in the quad.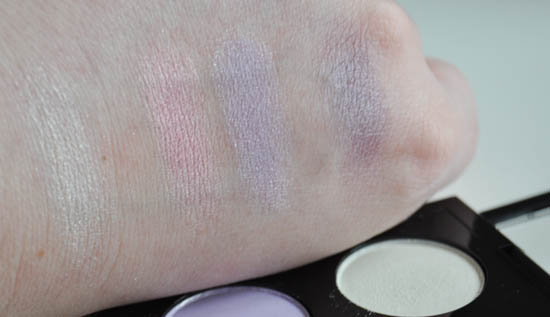 Again, payoff is very sheer. The swatches above represent three swipes each to get enough powder on my hand to take a shot. Now, there are two ways to look at this - yes, you're paying €47.50 so you'd want some bang for your buck, but consider this: intense pigment is not everything. In fact it's only one side of the coin - there's a lot of scope for sheer in makeup too. Not everyone wants to look fully made-up in intense shades all the time and there is value in subtlety.
These shades would be very in yer face if they were highly pigmented; as is, they'll probably make for a very pretty eye and they'll suit most eye colours too. Pinks and lilacs are brightening and eye opening; if you like them and they suit you, take a look.

Here's another look at the swatches - textures are (L-R) lustre, satin, frost and frost.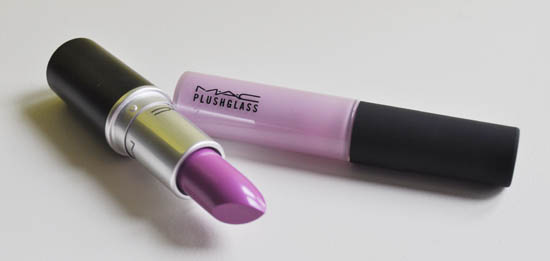 I also got a couple of lip products to check out. Lipstick in Playtime, €17.50 and Plushglass in I ? U, €19.

Advertised
Aaaand the matching swatches. The Plushglass shade is nice; Playtime is too violet-toned for me - while I love brights, I prefer them to be on the pinker side of things. It's also quite sheer on first swipe though you can build it up.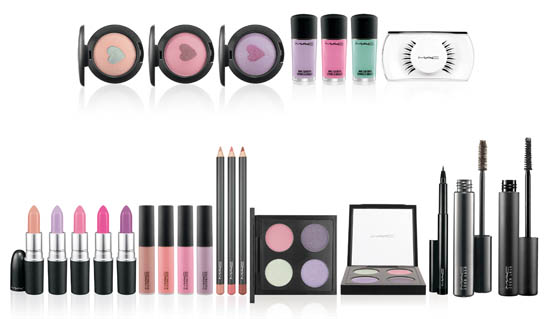 Here's the full Quite Cute range shot. We've got:
Mineralize Blush, €24.50*
Giggly,Light pink with pearly plum heart (Frost)
Sakura, Lavender with pearly deep magenta heart (Frost)
Miss Behave, Light beige with pearly mint green heart (Frost)
Nail Lacquer, €12.50*
Ice Cream Cake, Creamy blue pink (Cream)
Little Girl Type, Creamy pale lavender (Cream)
Mischievous, Creamy pale blue mint (Cream)
Lashes, €12
#7 Lash, Spiky, slightly separated, high glam lash
Lipstick, €17.50
Playing Koi, Creamy white peach pink (Satin)*
Saint Germain, Pastel pink (Amplified)
Candy Yum-Yum, Neon pink (Matte)*
Quite Cute, Bright white lavender (Cremesheen)*
Play Time, Intense violet (Cremesheen)*
Plushglass, €19*
Fashion Fanatic, Creamy pale pink
Bubble Tea, Creamy pale nude
Girl loves Boy, Bright light blue pink
I love U, Creamy mid-tone purple
Lip Pencil, €14.50*
In Synch, Bright yellow pink
Naked, Light neutral
Boldly Bare, Mid-tone red brown
Cutie Eyeshadow Quad, €47.50*
Moshi! Moshi!, Pale white green gold (Frost)
Goody Goody Gum Drop, Light white pink (Satin)
Boycrazy, Pale lavender with silver pearl pigments (Lustre)
Azuki Bean, Mid-tone violet (Frost)
Penultimate Eyeliner, €19
Zoom Lash, €16.50
Advertised
*denotes a limited edition item
Get Beaut.ie Delivered
Stay updated with Beaut.ie newsletters full of the latest happenings at Beaut.ie as well as great offers and things we think you might find interesting .