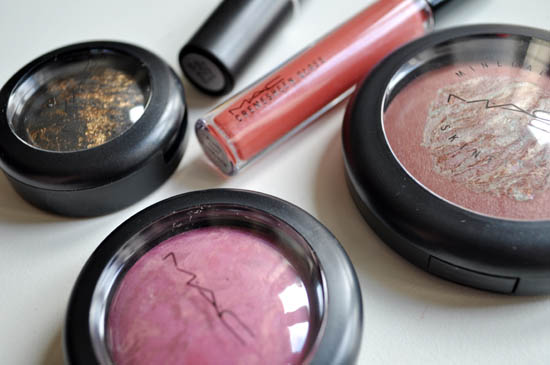 There are three launches from Mac currently on counter this month: Semi Precious, Fashionflower and Sized to Go are all available right this very second but it's only Semi Precious that really captured my imagination - possibly because it's the least summery selection you could imagine.
I really like Mac's mineralize products; they're great. Deeply pigmented, swirly, pretty to look at and lovely to use, the Semi Precious collection (a two-parter) gathers up a whole heap of limited edition mineralize products for our face-painting delight.
Mac sent me five products from the collection, so lets take a little look at 'em, shall we?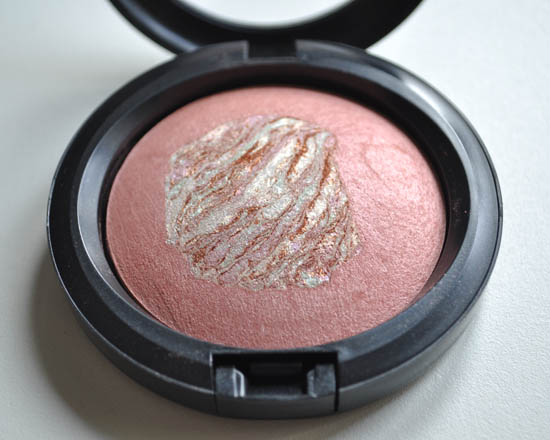 This is Mineralize Skin Finish in Semi Precious Rose Quartz, €28. It's one of four limited edition skin finishes in the collection and possibly the most wearable for a pale skintone.  And it looks absolutely gorgeous too, but that shell-like centre delivers a fairly sparkly payoff, so be warned if you're not a spangles fan; this leaves a fairly high-impact result on skin.
Pigmentation itself is light which is what you'd want and expect from a highlighter/setting powder, so you'd use this sparingly  and it might, in fact, be best kept for the chest and neck what with the fine glitter in the mix.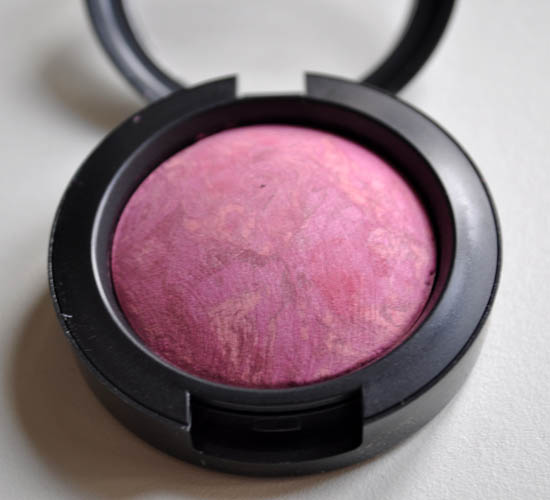 Feeling Flush, €23, is a melange of pink, deep blue and soft brown, say Mac, and it's one of three blushers in the collection; again, they're all limited. Man, this has a whopping amount of pigmentation, and payoff is immense. Apply this with a duo fibre brush for the best results, I reckon - and you'll have this forever as well, considering how little you need to get a result.
There's also a coral and an amber shade, both of which I'd like a look at - this pink is very pretty and quite cool-toned, but I'm more of a fan of blushes that tend towards the peach side of things as I just reckon they flatter me more. If you love cool pinks - definitely check it out.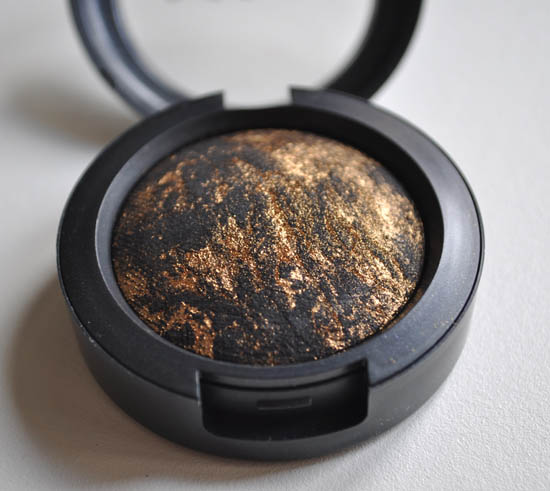 This, now, this I have complete and utter unreserved adoration for. It's Mineralize eye shadow in Golden Gaze and it's €20.50. Seems pricey, but this is a whopper - it's far bigger in (putting my maths hat on) area and circumference (taking my maths hat off) than a regular mac shadow single and contains 25% more product.  The shade is beautiful all on its own, but application and use is a dream.
The texture is gorgeous, creamy and smooth, the colours mix for a sort of iron pyrite metallic meld that's just beautiful and it behaves differently depending on how you apply - so you can pack it on the lid and get the gold and sheer it out above the crease for a proper smokey - the finished result looks like you used several shades, but in fact, you only used one.
I present the evidence: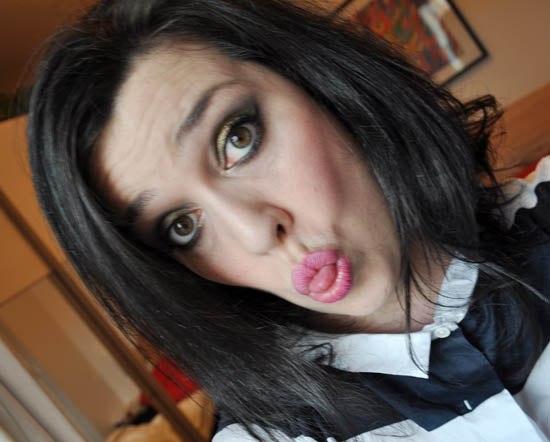 Advertised
Lips by Giorgio Armani, shirt from Cos (Oh Cos how I love thee)
Yeah, I'm pulling a stupid face, I know. I was getting fed up trying to get a decent shot of my eyes and started mugging into the camera. All the ones in which I look like a hosebeast, my eyes look fine. Typical. Anyway - that's Golden Glaze on my lids. I put a bit of Essence eye souffle in black on there first to act as a key (I'm using this all the time at the moment, it's great), then literally lashed the Mac mineralize shadow on with a chisel brush, packing it on.
Where I didn't blend it too much it stays pretty golden, but where I blended it a lot, like I did above the crease, it blends out to a super-smokey blacky-grey. There was no fallout, and it was really easy to work with. So, really impressed this and definitely interested in investigating some of the other 11 Mineralize Eye Shadows that form part of the Semi Precious Collection - here they are below.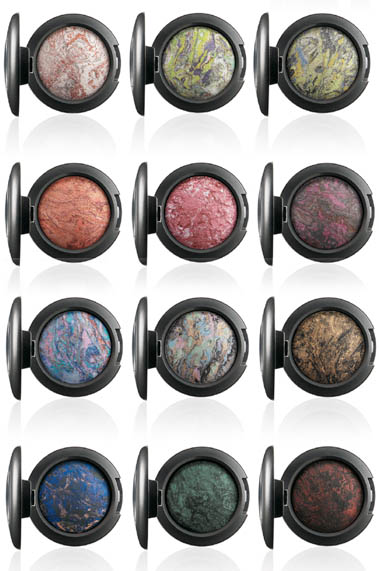 Do these kinda sorta put you in mind of the Giorgio Armani Eyes to Kill Intense shadows?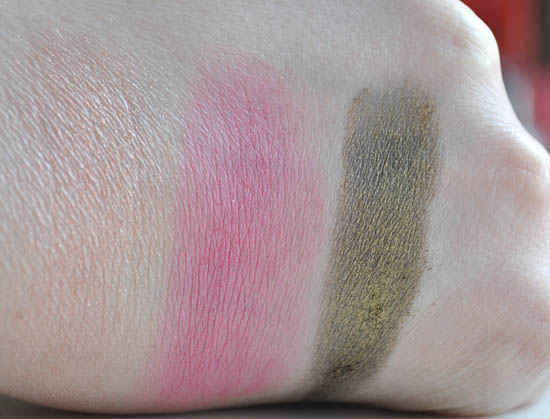 Here are the swatches of the three powders:  Semi Precious Rose Quartz,  Feeling Flush and Golden Gaze.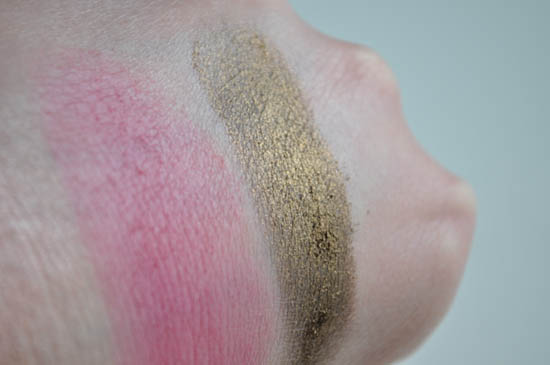 Golden Gaze is so gorgeous it deserves a second swatch just to show it off a little more.
There are also lip and some other face and brush products as part of Semi Precious but they don't manage to make the same impact that the powder products do. I got a Cremesheen Glass and a Lipstick to check out.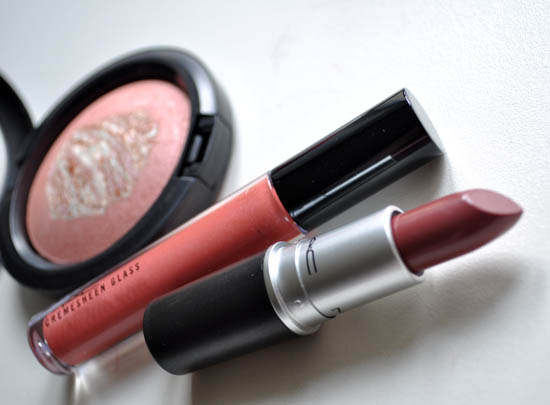 You're looking at Cremesheen Glass in Geo Pink, €20, and Lipstick in One of a Kind, €17.50. Again, both are limited. In the bullet, One of a Kind isn't my kinda one (see what I did there), but it's quite nice in wear, being quite sheer, semi-glossy and pretty darn neutral. Nothing spectacular, but a good daytime pick.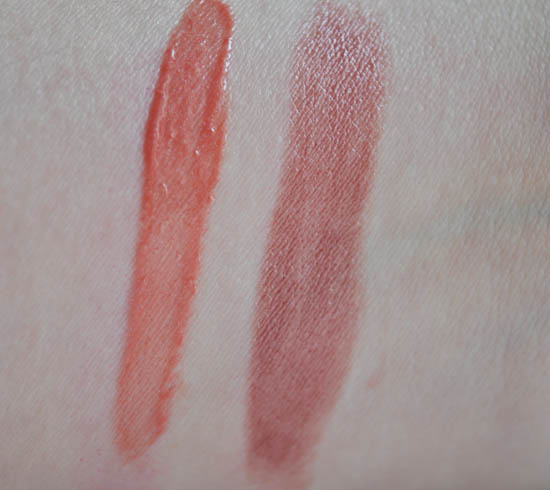 And swatches of the pair. The gloss is nice, with very subtle shimmer and a decent amount of colour so you can, y'know, see it on the lips. A good summery shade too.
Advertised
So, the powders definitely take the top prize in Semi Precious - lip products seem to be a bit of a bolted-on afterthought. I'm going to sashay to a counter to check out a few more of the shadows for sure - the blue and green in particular are siren calling to me.
What about you? Like the look of anything or have you already indulged?