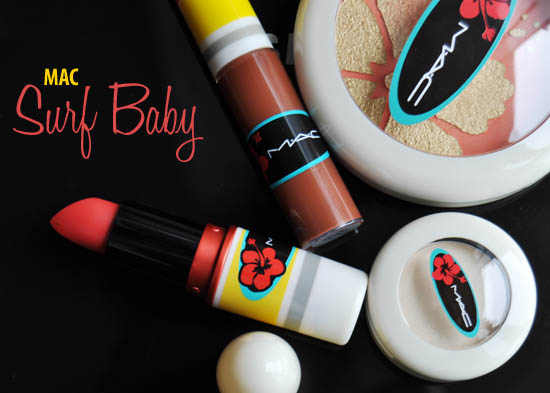 While Mac has a couple of launches for May (when doesn't it have a couple of launches for any given month, eh?) it's Surf Baby that's gobbling all the bandwidth blogwise. Launching at the start of the month, this is the brand's strongest colour collection for a while by my reckoning and will appeal to those whom Wonder Woman left in the cold, and who didn't find much to buy in Quite Cute either.
In a way I think Mac missed a trick here by not localising Surf Baby for the Irish market by using Biddy From Glenroe in the visuals in her later incarnation as mistress of washing powder. But hey, you can't have everything and sure we'll just have to forgive them, because there are enough wearable shades and cute new ideas here to keep Mac nuts, collectors and occasional purchasers alike very happy, I think.
I got four pieces ahead of the launch and I've also secured us a look at swatches a couple of days ahead of the official embargo ending - technically, we're not supposed to show you this stuff until April 21st, but I begged, so here we go. We'll take a look at my pix and swatches first, and then I'll show you the rest of the collection with brand press shots and prices.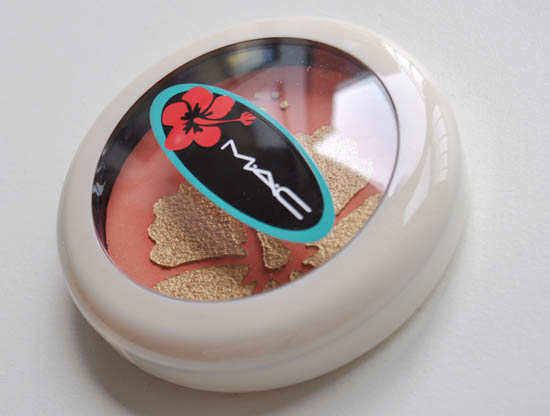 Surf Baby Cheek Powder in My Paradise is one of the stars of the show. It'll cost €25 and is a "peach pressed powder with gold hibiscus flower overspray." By the way, the labels and decals on the packaging are printed and are not stickers, which has been a bugbear in the past.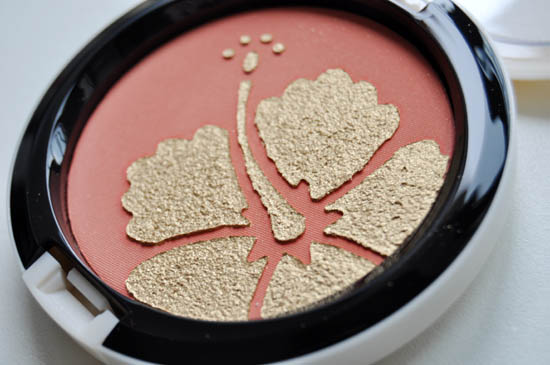 Here it is in close-up: nice, eh? The overspray is, as you can see, quite thick so should last a little longer than yer common-or-garden overspray. But yes, overspray it still is, and after a certain point, all you're gonna be left with is the base powder. This is no shy and retiring shade either: it's a deep peach with some brown undertones. This is large - bigger than a regular Mac powder blush, it comes in at the same size as a Mineralize Skinfinish.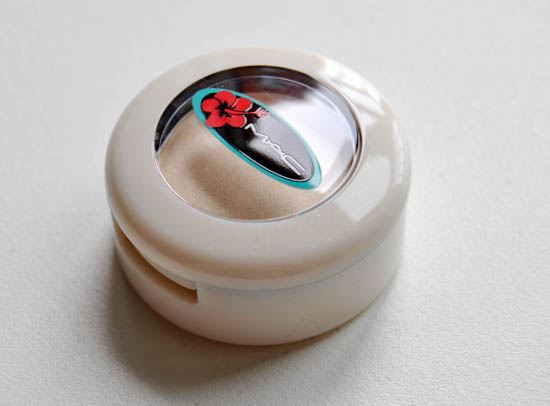 Short Shorts eyeshadow, €15.50, is a frost finish and it's a pretty decent basic. Described by Mac as a "frosty white champagne," yep, I'd say that's very accurate (the descriptions can baffle sometimes): there's some nice gold pigment in this and for a shimmer fan, it'll be a good neutral colour. Payoff seems decent based on swatches too.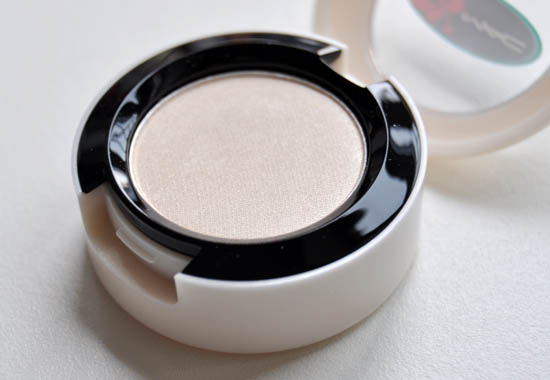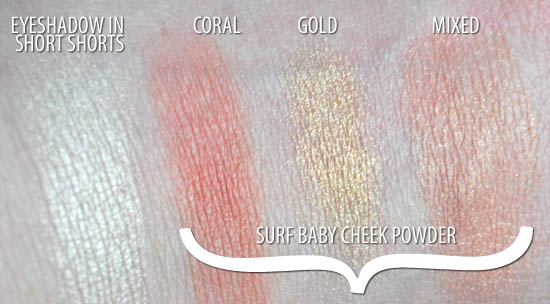 So, here are the swatches of the powder products I got to trial. From left, Short Shorts is indeed nicely frosty and the next three swatches show you the colours and combination in My Paradise. Heavily swatched is the peach shade first - this is about three swipes, so it'll be a lot sheerer on the cheeks. Beside it is the gold overspray and the final swatch is the pair mixed on a finger and daubed on - you'll  get a much more subtle finish with a brush!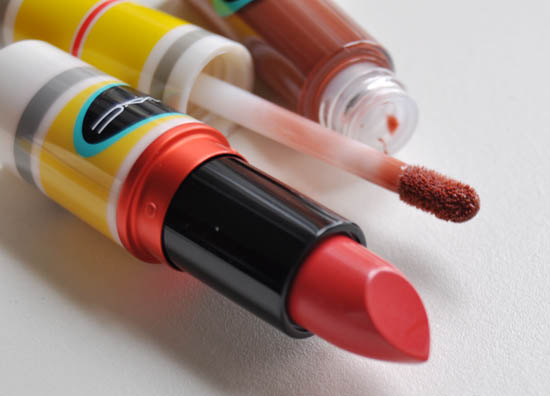 I also got a couple of lip products to try. Hibiscus lipstick, €18.50, is a bright orange coral and the formulation is Cremesheen. I mean, look at it ladies. You know me - this is a no-brainer. I love it, of course I do. It's the exact right shade and finish, so this one's going straight into my makeup bag.
Lipglass in Krazy Kahuna, €18, by contrast, is going straight into the reject pile. YAK. Brown, well, it ain't my colour; we've discussed this one a time or two before. On a warmer or black skintone, it could make a very nice neutral; on me, unfortunately it's a GROOtral. That's just a shade thing - the formulation, scent and packaging are all as you'd expect from a Mac Lipglass, so no criticism there.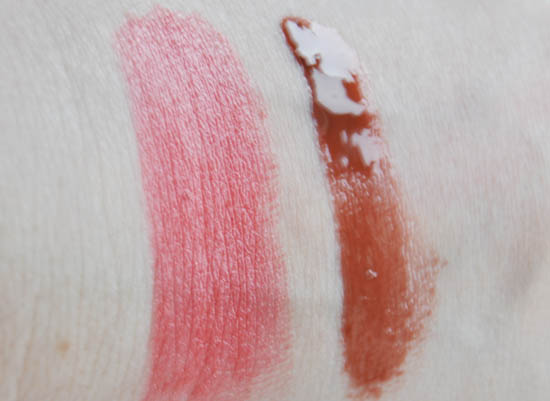 This is a bit blurry - the light was going - but you get the general gist - Hibiscus, a reddened coral is on the left and there's some poo Krazy Kahuna on the right.
Right - so that's what I got. I give the the firm thumbs up to Hibiscus, for the pretty-factor I'm liking the My Paradise Powder well enough and Short Shorts will be given an outing or three I'm sure. The only thing Mac sent I didn't like was the Lipglass, but sure that's no hardship - I'm probably the least likely to like lipgloss in any case.
There's a lot more in Surf Baby that warrants a look, so lets get to it.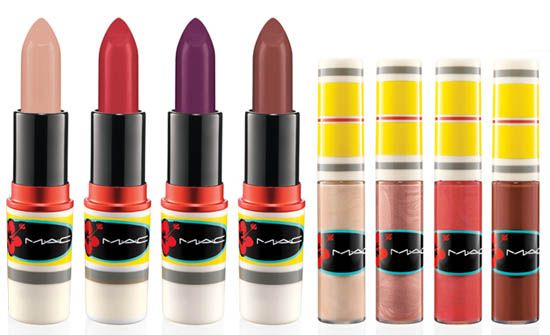 Lipstick, €18.50
Bust Out!, Dirty mid-tone violet (Lustre)*
Hibiscus, Bright orange coral (Cremesheen) *
Mocha, Peachy yellow-brown (Satin)
Naturally Eccentric, Creamy white nude (Lustre)*
Lipglass, €18*
Girl on Board, Pale white gold
Good Lovin', Soft peachy pink
Krazy Kahuna, Warm mid-tone brown
Strange Potion, Soft coral pink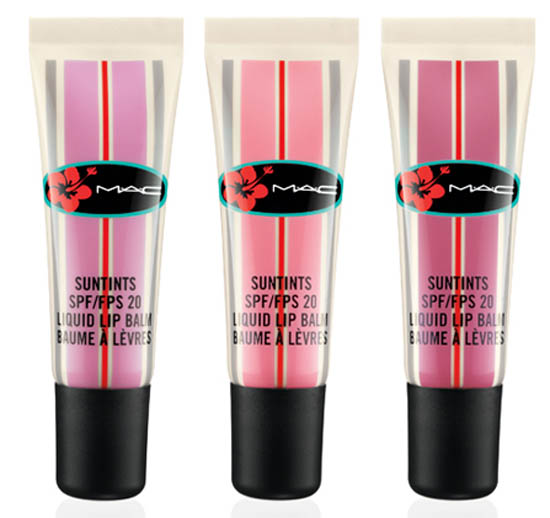 Suntints SPF20 Liquid Lipbalm, €17.50*
Advertised
Full of Grace, Soft sheer rose
Pink Tinge, Clean bright yellow pink with gold pearl
Lilt of Lily, Soft creamy pale pink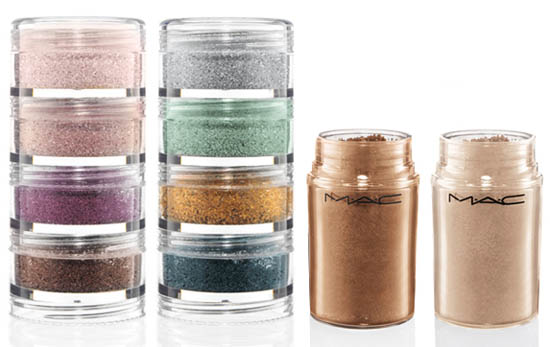 Crushed Metallic Pigment Stacks, €34*
Summer Stash, Light pink champagne, light white pearl, light violet with silver pearl, brown bronze with gold pearl
Surf the Ocean, Frosty platinum, light yellow green, gold bronze, dirty graphite with silver pearl
Pigment, €24.50
(these have been swapped in in place of two cheek sticks which don't seem to have made the final cut, shame)
Naked, Fleshy beige with golden copper pearl
Melon, Soft bright golden peach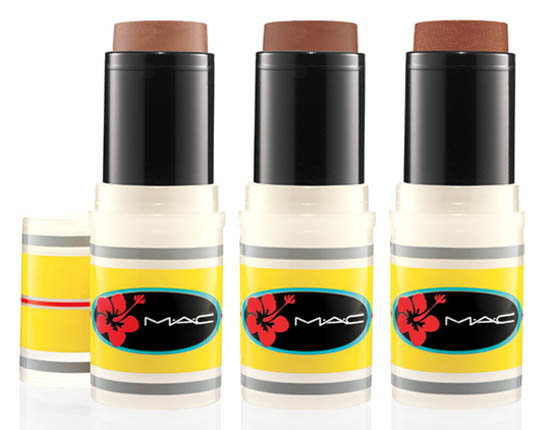 Skinsheen Bronzer Stick, €35.50*

Tan-Tint, Soft suntan bronze
Billionaire Bronze, Warm golden tan
Gilty Bronze, Coppery bronze with gold shimmer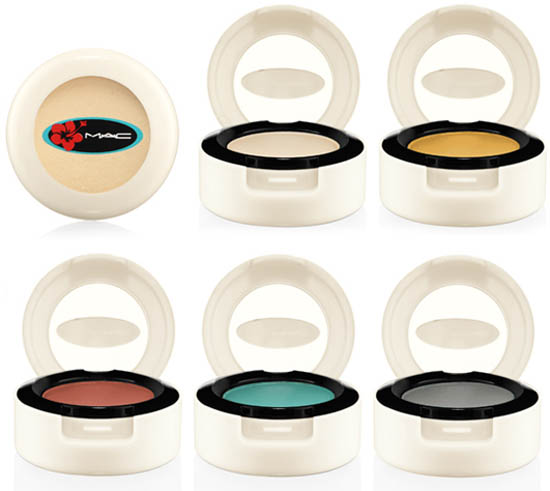 Eyeshadow, €15.50*
Saffron, Deep coral caramel (Satin)
Short Shorts, Frosty white champagne (Frost)
Sun Blonde, Dirty yellow gold (Frost)
Surf U.S.A., Frosted teal (Frost)
Swell Baby, Mid-tone grey (Satin)

Powerpoint Eye Pencil, €18*
Blue Noon, Teal
Gilded White, Shimmering off-white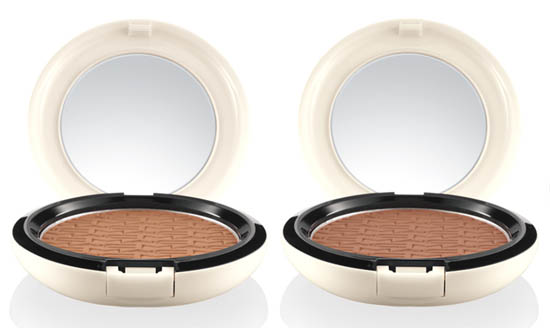 Bronzing Powder, €25*
Solar Riche, Mid-tone deep orange brown
Refined Golden,Finely spun gold with soft pearl finish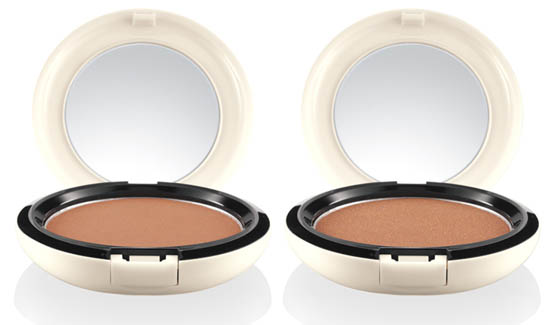 Studio Careblend/Pressed Powder, €25*
Gold-Go-Lightly, Mid-tone golden tan brown
Lush-Light Bronze,  Mid-tone rosy pink brown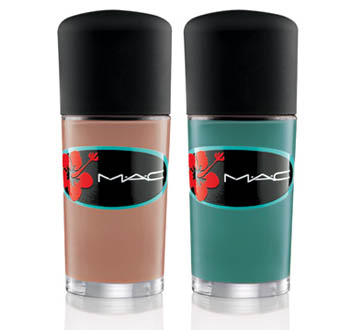 Nail Lacquer, €13.50*
Hangin' Loose, Dirty pink nude
Ocean Dip, Mid-tone creamy aqua
*indicates a limited edition item
Advertised