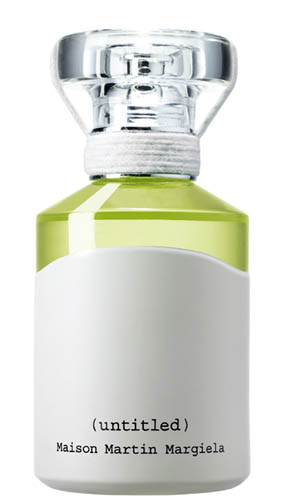 Niche fragrance will always pique my interest over mass any day of the week, but the interest-factor tends to wane if I don't actually, y'know, like the scent.
In a menu crowded with musky, vanilla-heavy, overly-sweet perfumes, the forthcoming Untitled juice from Belgian man of fashion mystery, Martin Margiela, he of Maison Martin Margiela, is akin to a palate-cleansing sorbet.
Because it is fresh. And sharp. And zingy. And HURRAY! Not even one iota sweet.  Oh, thank God. The world does not need another Alien, Flowerbomb, Beyonce Heat or Estee Lauder Sensuous. Down with perfumes that promote headaches, attract bees and sticky-juice-loving insects and instead, thanks be to jaysis, here is something to appeal to any of us who occupy the opposing olfactory spectrum.
In fact, packed as this is with galbanum - a gum resin - box green, bitter orange and incense, it may be too astringent for some.  I liked it immediately, but did wonder if Untitled isn't a bit too sharp - because despite having woody notes and some jasmine in the dry-down, I can't detect any sweetness in it at all. That makes it very unisex (though I hate to use that word), and it's lightly dramatic.
Having worn it for a week or so now, I've come to the conclusion that while it won't take over a room, it is different enough to get you noticed. Subtly. Good old subtle, a neglected attribute in too much of modern perfumery. So yes, a firm thumbs up from me, and if you like notes like vetiver, cedar and verbena, you will like this too.
Advertised
If you're a Harajuku Lovers fan, forget it.
Lets talk a little about the packaging before we get to price and launch date, eh? I LOVE THIS. Designed by Fabien Baron, who's also put in time at Guerlain for some of that brand's beautifully-designed pieces, the bottle is gorgeous. Glass, perspex, cord and white paint create a flacon that's in sympathy with the off-kilter juice inside and is, for me, a welcome departure from the frills and fuss of so much fragrance packaging.
Price? 30mls start at €52, going up to €90 for a 75ml. This is a Brown Thomas exclusive and will launch mid-January 2011. Will you be checking it out?