 Heidi Klum should narrate the life of my makeup bag. She could look at each product sternly as they pass the hallowed zip and tell them the truth of the matter - one day you're in and the next you're out.
You see, the contents of my day-to-day makeup bag are on constant rotation. Products can fall out of favour faster than an ex of Henry VIII.  So today I am showing you the most hard working cosmetic heroes of my kit, the ones that really deserve their place in the final line up.
There is hardly any overlap with Dani's or Laura's picks. And when I see it all laid out in it's in extensive glory, it does seem a lot. But I use all products sparingly and only need ten minutes of a morning to dress my fizzóg.
So shall we take a look then?
Skin
I always start with a good primer and Smashbox's Photo Finish is a favourite. I am a fan of light coverage and Lancôme's Teint Miracle in 03 is a light/medium shade that works for me. I apply with a stippling brush, working from the centre of the face outwards.
Benefit's Fake Up is my concealer of choice. So many correctors look like gloopy glue on my skin. I've tried Benefit's Boing and Erase Paste, and I had such high hopes for the Laura Mercier Concealer Pot, but they were all too thick and heavy. But Fake Up has a hydrating layer that makes all the difference to my under-eye.
I use a quick dusting of Mac's Prep & Prime, and if I look like I am going to frighten small sproglings, I sweep a little Mac Bronzing powder where the light would naturally hit.
I am loving the current range of cream blushes that are on offer and butter London's Honey Pie is a soft peach/pink that brings a beautiful flush to the apples of the cheeks. My family have been known to call me football face and butter ball head due to the roundy-shaped head of my childhood but I still live a little in fear of the moniker, so sometimes I use Mac's classic Harmony to lightly contour.
Advertised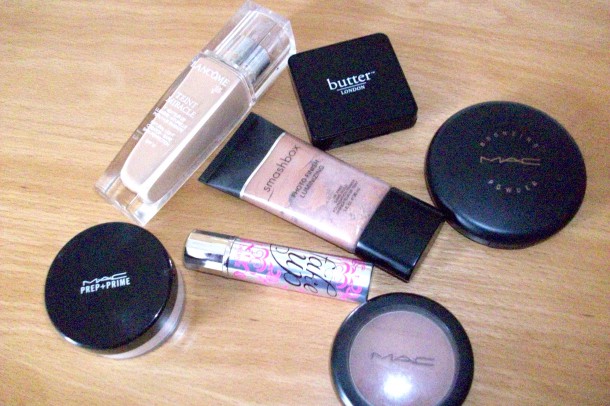 Eyes
Mac's Painterfly followed by Brulé shadow are my absolute holy grail eye products. Some days I'll just do a flick with Bobbi Brown's Really Black liner and pair it with a strong lip.
But if I feel like playing up my eyes, I'll line with Bobbi Brown's Espresso Gel or Mac's Teddy, and then use Mac's Smoke and Mirror's palette. Or if I want a cream shadow, Bobbi Brown's Goldstone and Beach Bronze work brilliantly with blue eyes.
Shu Uemura's eyelash curler is followed by Benefit's They're Real (I have yet to find any mascara to top the length it gives to lashes) and Gimme Brow in light/medium frames the peepers.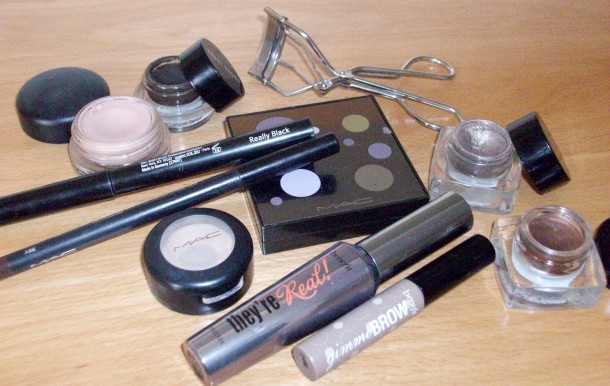 Lips
If I am going for a neutral lip, I'll use Mac's Subculture to line my cupid's bow (and might go wild and use it as an all over colour), then maybe Lancôme's Absolute Nue in 301 Rose Subtil. And YSL Baby Doll in number ten is a slightly darker neutral that has yet to be evicted from the bag.
If I want to focus on lips instead of eyes, I love my Armani Rouge 400 - a blue red that has a slight sheen. It is subtle, as red lipsticks go, but can be built up to a loud crimson POP.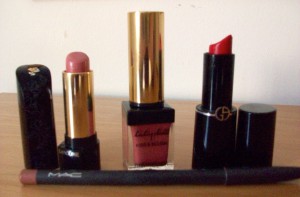 Advertised
So there are the secrets of my makeup mála. So channel your inner Heidi and tell me what is zuper cool and what should get a tearful auf wiedersehen. To the comments!