 We're super excited here at beaut.ie for the release of upcoming movie Maleficent. Far more interesting than a princess is a super cool badass villain who gave Sleeping Beauty what-for.
And it's also no coinicidence that as makeup obsessives, we beaut.ie ladies are always excited by great film makeup, and this one really delivers in the makeup department - Angelina looks pretty incredible.
It's not impossible to adapt this makeup to make it wearable for the likes of you and I, though. The eyes in particular would be amazing on a night out. You should also know, because it's worth a giggle, that I am writing this in full Maleficent garb right now. If anyone looks in the window, things will look weird.
Step One
You can use any products that you happen to have at home to create this look. It doesn't require special or really specific products, so just have fun with what you've got.
I've started with a full coverage foundation in a light shade. If you're going full-on Maleficent costume, then go with white or very pale foundation. If you're going for wearable, just match to your skin colour!
Next, I'm applying a little bit of brown shadow to my brows to tidy them up. In the spirit of keeping the look wearable, just follow your natural brow shape rather than putting in a high arch like Maleficent. I'll add more powder to my brows later when I make the look more villainous (follow that with a maniacal laugh).
Now for the eyes. Apply a taupey brown shade all over the lid, taking it quite high past the crease of your lid, but not all the way up to the eyebrow.
Next, grab your black eyeliner of choice. To get a smooth, even cat eye, I'm using gel liner on a fine liner brush. If this isn't your forté, though, don't worry. We'll be applying shadow over the flick - it disguises wobbly work!
Take your time achieving the flick. You want it to be thickish (as in the photo) and as even as you can get it. If it's a bit off, though, never fear.
Grab any black pencil liner you've got, and run it under your eye. Next, smudge it for a blurred effect.
Whip out a black matte shadow - any one will do. With a fluffy blending brush, blend the shadow though the crease of your eye and on the outer third, over your flick (see the photo for help).
If you can stand it, run the gel liner along your upper waterline - it's under your lashes toward the inside of your eye. Skip this step if you have sensitive eyes.
If you find blending challenging, try holding the brush handle quite far back (this reduces the pressure on the bristles, ensuring a light touch) and move it in tiny circles.
Step Two
Refine the eye makeup by running a nude or white pencil along the lower waterline.
You can also create a small point at the inner corner with your black liner pencil.
Add some black volumising mascara. I'm skipping false lashes as I'm pairing this makeup with a red lip a la Maleficent. It's not an understated look - lashes would push it over the edge.
If you're happy with the eye makeup, you can continue your routine as normal and pair it with a nude lip, or anything you'd like. Since I'm going with a red lip, I'm giving myself up to the gothic look and skipping blush and contour entirely.
Exfoliate your lips with a cotton bud covered in lip balm. Then, grab a red lip liner and line your lips carefully. I usually start in the middle at the cupids bow and line out toward the corners of my mouth.
Fill in your lined lips with liner, then apply a cherry red lipstick.
As you can see from the photo, this is pretty intense makeup. But this is the wearable version. Now for the fun!
Step Three
To transform this look into Maleficent, you should first go back in with your brown shadow and give brows a more exaggerated arch.
Next, grab some scotch tape or medical tape. Angelina's cheekbones in the movie are super cool, but we'd need latex putty to recreate them. An easier version of her crazy cheekbones is more achievable.
Apply a strip of tape quite high along your natural cheekbone, angled down toward your mouth.
When you're happy that the positioning is even on both sides, paint a strip of pale concealer or white foundation along the top. Blend it with a clean, fluffy brush, then remove the tape.
Advertised
Step Four
You''ll be left with a pretty harsh white line. This is desirable.
While you have your white or pale foundation to hand, apply some down the bridge of your nose, under the eyes and along the forehead. This will lighten the effect of the whole face.
Next powder the cheeks with some translucent powder. We don't want the powder shading we are about to apply to clog in the liquid makeup.
Grab a grey matte shadow and with a clean fluffy brush, draw a line under your new white cheekbone!
Next, blend the grey shadow.
To add further depth, also blend the grey shadow on your temples, across the top of the forehead, and down the sides of your nose. Basically, apply it just as you would bronzer.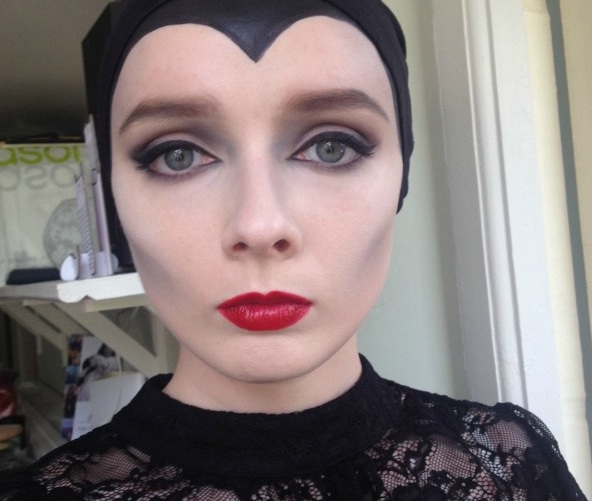 Step Five
Do you want to go for full on Maleficent costume? Well, let me advise you that you can make Maleficent's head gear with - wait for it - a black swimming cap, some wire, and black electrical tape. Unfortunately, I am without horns today. But I've used some black gel liner and an eyeshadow brush to create the line of Maleficent's hat along my forehead. The rest of the hat was provided by an obliging pair of knickers. Oh, the fun of dressing up!
Now, you need only adopt an expression of evil disdain and have fun!
What do you think of our Maleficent makever? Are you looking forward to seeing the movie? And would you wear any of the elements of this look?
And to celebrate the release of Maleficent, we have a prize pack packed with cackle-worthy goodies to give away! Simply leave a comment or tweet using the blue link below to be in with a chance of to get your talons on the prize.
Best of luck!
TERMS AND CONDITIONS: You must be over 18 to enter, no cash alternative is possible, our decision is final, winner will be picked at random, winner must be resident in ROI or NI, competition will close on Thursday, May 29th at 11.59pm.
Advertised
'Maleficent' opens in cinemas on 28th  May 2014.