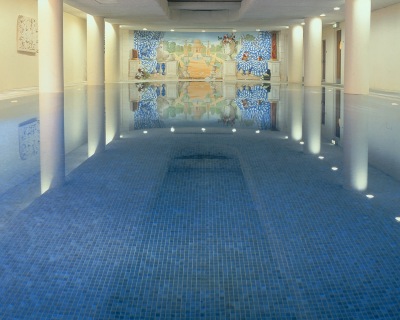 We've got a great guest post today from Suzy at Maman Poulet. Taking a well deserved break from revealing the truths about politicans and lawers that they would have preferred to keep to themselves, she decided to hit one of the capital's plushest spas:
"This is my first Beaut.ie confession – I've never been inside a beauty salon/spa etc. before and the rooster (my partner Karen) thought that I might like same for my birthday. Some consultations with the Beaut.ie team later and it was decided to try out the Tethra Spa at the Merrion Hotel.





One of the things that keeps me out of the beauty business are the steps and general able bodiedness of the beauty industry. Invariably these places are all up stairs or down stairs. Given I fell up the stairs at the cinema the night before my appointment it was not a bad idea that I decided to find somewhere with lifts and no/few steps. There is a side entrance to the Merrion is that is accessible and the hotel itself is accessible throughout.
And like many other women I have tended to believe that the lack of a size 10 figure means that these places are not for us either but that's a subject for a whole different post!
Deciding what I wanted done – that was a easy! Due to my health massages are not advised, I bite my nails and don't need a lot of waxing so it was to be a facial
I booked my appointment during the week and revealed my salon virginity to the receptionist who was unfazed by my ignorance at the type of treatment I wanted and we agreed when I said I'd leave that bit till I met the therapist. I ended up getting a 10am appointment for a Saturday which was a bit of a sacrifice. (No Saturday Kitchen for me!) The day before the appointment there was a call from the salon to confirm and it was all Ms. Byrne and Madam which is very 5 star but not very Maman Poulet!
Advertised
I arrived at the door and a porter brought me to the lift and gave me further directions and I was greeted at the desk and given a robe and directed to the dressing room. After which Irene the therapist met me and brought me into the treatment room which was warm and comfortable and very therapyish. The treatment couch was heated, the towels were fluffy, the music was lovely. I was asked about my skin type etc. and it was decided that I'd have a skin brightening treatment. The lights were dimmed and I lay there and let Irene get to work.
Cleansing Milks, exfoliators, eye compresses, acupressure, lip treatments and a wonderful head, neck and shoulder massage later I had my brows shaped for the first time in my life. (Jaysus I wept a tear or two but they look so lovely!) All the treatments are from the Espa range and I particularly liked the eye compresses and fiddly bits that Irene did massaging my eyeballs. Oh it's hard to explain and you'd have to be there but it was lovely!
It was all completed by moisturising treatment and a serum. A glass of water and time to get myself up of the treatment bed and readjust and I was a new woman. The facial was €90 and the eyebrow shaping an extra €20.
The only downside was I left looking like I'd been pulled through an oil slick backwards. The head massage and treatments left my hair in an awful state. So it's not really something you can get done if you don't plan going home after to clean yourself up (or like me sit in all day with greasy hair afraid to shower so as not to get rid of all the goodness you've paid money for to be put on your face.)
I'll be back again to treat myself and indeed am open to suggestion to other treatments I can try and other locations in Dublin that are accessible (in mind as well as in physical structure!)"