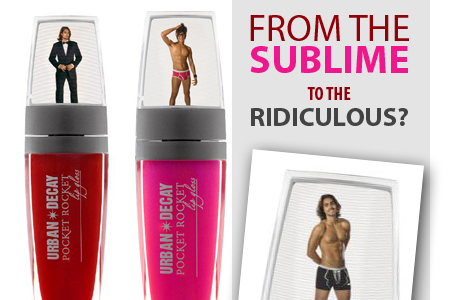 Decorated with pheremone-laced ink, holograms of buff men who're dressed/undressed depending on the way you hold the tube, Urban Decay's new Pocket Rocket glosses, €16.50, seem dead-set to become firm favourites of boy-crazed gals everywhere.
Eight semi-sheer shades come in a specially designed flat tube that's robust enough to be jammed into a pocket and sat on, if necessary. Creme brulee is the flavour of choice, and much to my amusement, each guy featured has his own story:
"American born, but schooled abroad", the lad above left and bottom right is Eric, who "retains many European sensibilities, including Italian bravado, French table manners, and German soccer skills. Undress him for a little  Spanish fly."
YEOW.  Multiculturally sleazy!
Advertised
Emo James, right, in his pink underpants is described thusly: "you have the same favorite color (pink), the same hair (black), and the same size jeans (tight). And yet, he's still all man. Undress him to see if he's emo down below, too." Emo down below. Oh lordy. Lordy lord.
There are also bios for Kirk (When he isn't out running the trails with his two chocolate labs, enviro- activist Kirk is finishing his master's in sustainable architecture. Undress him when you two feel like  getting eco-friendly), Doug (Who doesn't love this guy?! Doug is cool. He has a closet full of clothes, a hard drive full of music, and loves making out on the street. Undress him to see why he's always smiling) and David  (a hard-working man: at work, in the gym, and most importantly, in bed. After a grueling 60-hour week, he still has the energy to come over and put his 110% into you. Undress him to inspect your benefits package).
Plus points for attention to detail anyway, Urban Decay!