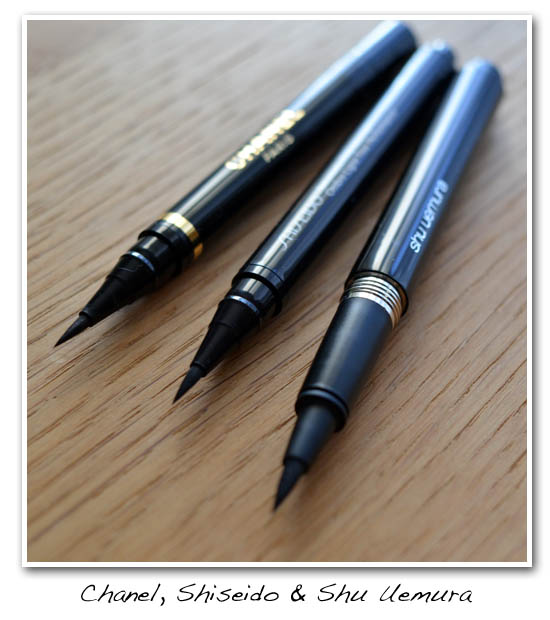 A terrible thing happened one morning last week. Having perfectly lined one eye with my Shiseido Fine Eyeliner, it ran completely dry. Can you imagine? Not a word of warning or anything. Luckily I had another liquid liner to complete the second eye. It was Chanel and not Shiseido, so the effect was slightly different, but with a bit of re-tracing over the first line, I was able to get a passable result. It made me think about the differences between the three pen-format liquid liners I own, however, so I thought a little comparative review was in order.
This type of liquid liner (where the ink is contained in a cartridge inside the pen, to be released by clicking the base each time you use it) is my favourite. Unlike the type where you are dipping a brush into a pot of liner, you usually get a much finer flow of ink that is easier to work with and they don't tend to dry out as easily as the sponge-tip marker types do.
Shiseido Automatic Fine Eyeliner, €30.50
My original and best loved liquid liner (the one that made me realise I was actually capable of applying liquid liner), I was all set to write a glowing review of this until I went to replace it. Firstly, the packaging of the pen had changed from the original elegant metal case to a less attractive plastic case. Not the end of the world, I suppose, but then I found out the refill cartridges that had been available were no longer being made, meaning the whole pen has to be replaced each time it runs out. And as this was an item I actually managed to completely use up a few times over, it makes it an expensive proposition.
Using the liner is simple. Simply click the base of the pen to release the ink, shake well and apply. The ink soaks easily into the brush tip, though I don't find the consistency to be quite as easy to use as it was previously. I found it hard to get a fine point on the flick, for example, and had to go over it a few times to get it neat - resulting in a much wider line than intended. It gives a rich colour, but I did find that going over the line a second time tended to remove some of the colour first applied, so I was going back to try to fill in empty patches before I was happy with the result.
I'll give it some time as it's brand new and will maybe improve as the ink flows, but I'm disappointed in the changes to this.
Advertised
Chanel Ecriture de Chanel Automatic Liquid Liner, €32.50
With packaging very similar to the Shiseido model, Chanel's Ecriture de Chanel liquid liner doesn't offer the option to refill either. On the down side, the ink flows out somewhat heavily here, appearing in a large drop on the tip of the pen rather than soaking the brush evenly. As a result, I always need to dispense the ink onto the back of my hand, using it as a palette to evenly coat the brush tip before applying, making application a bit more complicated when I'm in a hurry.
The results are lovely, however. The colour is rich and glossy and applies evenly and it is not difficult to achieve a neat flick. The ink dries at just the right rate, too - not so quickly that it makes correcting gaps difficult and not so slowly that it smudges everywhere. So despite the fussy application required, I probably would repurchase this one.
Shu Uemura Liquid Eyeliner Pen, €14 for pen and €14 for cartridge
Offering a lot better value for those who want to repurchase, the Shu Uemura offering prices the empty pen and the ink cartridges separately, so if you love this one refills are going to be a lot less expensive than with the Shu and Chanel liners. The pen also feels a lot more durable in its metal case.
Unfortunately this one isn't a favourite for me. I find it dries very quickly on application; so quickly that I don't manage to draw a complete line in one go and when I draw over colour that's already applied, the brush takes flakes of colour with it. Through a process of drawing, clicking again and filling in the gaps I can achieve a good dark line, but it usually ends up quite heavy as I have to take the line thicker than I'd like to even things out. The finish is also more matte than the Chanel liner.
Advertised
This is a good one if you like a heavy line with liquid liner, but I don't find it flexible on days when I want a finer line, so I'm not sure I'd bother to refill it when it runs out.
If you're a liquid liner fan, do you have a favourite product? Let us know in the comments below!