 I'll admit it right here and now and there's nothing you can do to stop me. I'm an unabashed fan of sparkle. Shimmery  things whisper to me from mid-October, and I lose the run of myself altogether. Working for Beaut.ie doesn't help. We put glitter in our tea and when I suggest lots of sparkly makeup tutorials in the run up to Christmas, the Beaut ladies only encourage my habit. Look at this sparkly eye tutorial - I went a little mad.
Or check out this gold sparkly eye tutorial inspired by a Christmas tree! I can't help myself. So when the new eyeshadow offerings from Max Factor were placed under my nose, I coveted them like Gollum. It looked something like this -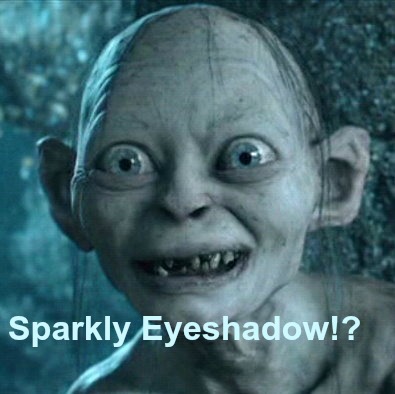 These new excess shimmer eye shadows will get you in the festive mood and make you look considerably better than Gollum. They're richly creamy and super opaque. You can build them up to a heavy metallic sparkle or apply them lightly for a wet-look wash of colour on the eyelid. They make a brilliant base for powder shadow and I've had no problems at all with creasing. I just love them.
Crystal, the silvery white shade, is a dead ringer for Lancome's limited edition cream shadow from last Christmas. If you recall, that was one of the most beautiful Christmas collections from any brand in some time!
Advertised
They are beautiful. End of. The packaging has an expensive, clunky feel and the range of colours is excellent for a pharmacy brand.
Just look at the deep, sparkly finish of onyx. It would make an incredible base for a dark smoky eye. But these are very versatile. I had a play with crystal and copper. I added some touches from my new favourite palette - the NYX Butt Naked Palette - and this was what I came up with...
Advertised
The best part is that these cost €7.99 each, which I think is great value since a little goes such a very long way!
What do you think? Are these on your wishlist? To the comments!