 Max Factor's new Luminizer Foundation is definitely one for winter. If you're tired of the light, sheer formulation of summer bases and are in the market for something with medium buildable coverage, you'll love this.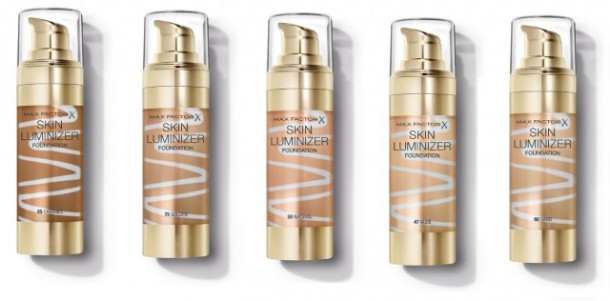 It' not perfect though, and dry skin types should avoid this foundation like the plague.
Although it's described as having a dewy finish, I'd describe it as more of a reflective semi-matte. It contains reflective particles which make your skin appear glowier, but the formulation itself is slightly tricky to work with. Though smooth, runnier bases like YSL's latest Fusion Ink Foundation seem to be a la mode at the moment, this one is a lot heavier.
Advertised
Though the finish is very pretty and it does look radiant, the foundation is awkward to manipulate. I'd recommend using fingers for this one, as you'll need the heat to melt away the foundation and prevent any sitting in lines or dry patches. If you find it still sitting a little, try tapping it into the skin rather than dragging with your finger.
The finish of this is lovely, if you like semi-matte finishes, and I'm really impressed that the lightest shade - 40 Light Ivory - works on my pale skin. There are six shades to choose from in total. It doesn't contain SPF though, so I'd keep this one for evening wear if you don't wear a separate SPF.
At €17.99, this isn't really what I'd describe as a budget foundation, and though it is nice, I'm not sure that the price is totally appropriate. With my combination skin, I think I'd probably spend €5 or so less on a more affordable offering, or around €10 more for something more high end. That said, if your skin is on the oily side, this will work beautifully for you.
Have you tried this? And what is your higher coverage Winter foundation of choice?