 Hot on the heels of YSL's Glossy Stains come these Super Stay 10h Tint Glosses from Maybelline. Both products are stain/gloss hybrids that promise innovative, longlasting colour that feels lightweight and comfortable on the lips.
I am in love with my Glossy Stain and have been raving about it to anyone who will listen – and a few who patently won't. (Sorry, Mr. Plumber Man, but it really is a very lovely product.) The one thing that prevented me from rushing out and buying up the range is the rather hefty price tag – at €33, that's a whole outfit from Penneys or a full wine rack, from Aldi!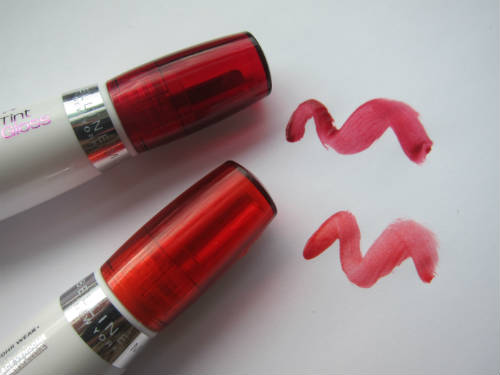 On the other hand, Maybelline's offering is a much more palatable €11.49 – that's just over a third of the price of a Glossy Stain.  Now you do have to consider a much more limited shade choice – just 5 on these shores, as opposed to a whopping 20 in the YSL range. There's also no denying that the sleek black and gold of the YSL packaging offers a more luxe experience than Maybelline's white plastic tubes. And I find I get around 4 hours wear from the Super Stays - as opposed to the advertised 10, or the 6 hours wear I get from my Glossy Stain.
Advertised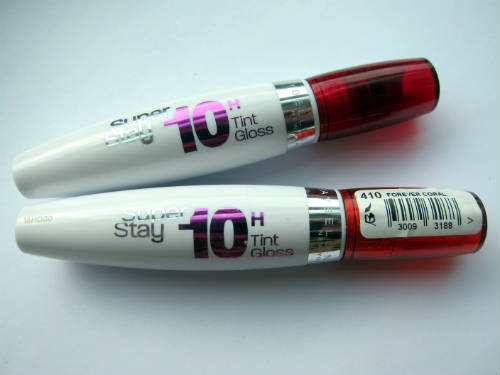 But all that said, I'm loving the Maybelline product! I have two shades, Endless Ruby and Forever Coral, which are both lovely: bright, saturated shades that give a gorgeously glossy pout, fading gradually to a more matte stain. I've also clocked my eyes on Timeless Plum, which looked to me like a bright, violetty purple. Lasting Pink and Forever Fuchsia round out the range: I'd happily wear all five, but they do look quite similar and it would have been nice to see a few paler shades in the line-up.
Like the Glossy Stains, these are fruitily scented, come with a sponge doefoot applicator and feel pleasant and non-drying on my lips. Mine were a gift from a well-connected friend (thanks Sarah!), but Super Stay 10h Tint Glosses are out this month; has anyone spotted 'em yet?
Advertised