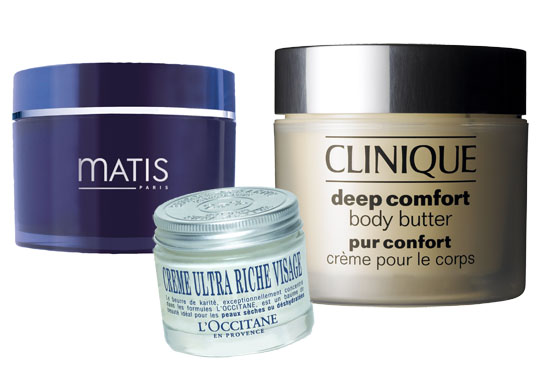 Never were winter skin savers needed more than right now, eh?
Snow, ice, hail, THUNDER AND LIGHTNING DURING THE SNOW, more ice, slush, a sprinkling of extra snow just to jazz things up a bit and temperatures as low as -10 are all wreaking havoc with hides nationwide. Lucky I have some soothing suggestions for you all today then, isn't it? We've already extolled the virtues of loads and loads of great remedies for seasonally ravaged hides, but I have a few new ones to roll out today, in an emergency, like.
I've picked a couple of products for body too, because the last time I was exposed to this sort of cold was last February in New York. Before boarding the plane I airily checked the weather and breezily reckoned that 2-to-3 degrees would be grand. As a person who doesn't really do outdoorsy pursuits I hadn't quite factored in NYC's wind-chill, freezingly funneled by its long, grid-like streets. My coat, chosen for style over warmth, was woefully inadequate and even frequent pitstops for lovely cups of hot chocolate did bugger all to thaw my bones. Brrr. By the time I got back to Dublin my legs and arms were itchy, a-flake and lizard-tastic. So lets just say I've learned my lesson, eh?
Advertised
I'm kicking off with Matis' Reponse Corps SOS Nutri+ today. A really dense, creamy balm, I had a bit of a heart attack when I asked the price of this - €97.50! - and really did waver about posting about it because lets face it, this is a lot of money to pay for a body cream. You get 200ml for the price; it is a great brand I find to be particularly good at climate-appropriate products and it is beautiful and very nourishing. If you have the cash, splash it by all means but a more purse-friendly alternative would be equally dense and unctuous new Clinique Deep Comfort Body Butter, €31.50.  You get 200ml in this pot too and it's lovely on the skin.
For face, I'm definitely liking the look of the new Ultra Rich Face Cream, part of L'Occitane's Shea Butter line. €34.95 is the damage and oh boy, I know my skin will drink this stuff up like water. Gorgeous.
Have you got any remedies or recommendations for skin that's suffering in sub-zero temps? Tell us in a comment.