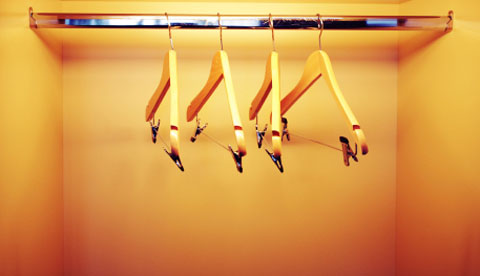 "How come you're not using your new Tom Ford Grey Vetiver," I queried of Himself recently. "Oh," he said, explaining, "see I'm using up the other bottle of Tom Ford first." "Oh right," says I, knowing he has a bathroom cabinet stuffed to the gunwhales with scent,  "you know you don't have to finish one before you start another?" I elaborated: "you can, y'know, use them all on different days, or nights. Depending on your mood, like, or what you're wearing." "What!?" he said, "what are you on about?"
I thought I'd educate him, ladies, so I enthusiastically explained the concept of a fragrance wardrobe. He was doing the ironing at the time and the look on his face as he glanced up from smoothing a collar was a picture.  Similar, in fact, to the time I idly mentioned, while reading Sunday supplements, that Marni was "my new style crush." He was heard about the flat for days after saying "my new style crush" in a mimic-y voice and then hooting with laughter.
It's safe to say the concept of the fragrance wardrobe didn't pass muster, so.  And yeah ok, it is a bit silly, but it also is a VG way of fooling self into it being ok to continually buy millions of new bottles of scent, BECAUSE THEY'RE FOR MY FRAGRANCE WARDROBE, DUH.
Advertised
What do you reckon? Fragrance wardrobe = total load of marketing-speak cobblers or a really great beauty concept? To the comments!