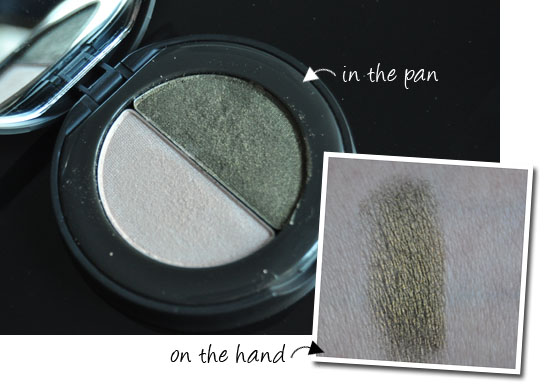 Oh GWAD, I thought when a parcel containing some Emani mineral products arrived. I am so heartily fed up with wowee zowee OMG! minerals R D NEW TING! that I can't actually muster proper words due to my extreme lack of enthusiasm for them. Mineral powder foundations are quite frankly crap. Lets not mince words.
Sure, if you've sebum-prone skin then powder foundations may well work for you, giving an element of soakage along with that horribly clunky coverage, but if you've got a normal-to-dry or combo skintype, it's a sure-fire bet you've tried 'em and hated 'em. Me - I detest mineral powder foundation. I have only ever found one I didn't thoroughly hate over a prolonged trial, and I still went right back to liquid when it was finished.
I'm less scathing about other mineral products like shadows and blushers because lets face it ladies, before these sort of products were so hysterically marketed as 'mineral' they, er, had minerals in them anyway. Stuff like mica, and titanium dioxide, for example. So, mineral eyeshadows don't piss me off as much as mineral foundation does. And that is why I decided to heave-ho my sighs of exasperation to one side and check out a Duo Colour offering from Emani, a new brand to Ireland.
At €30, it's a steep price for two eyeshadows from a new-in-the-market range, so it'd really want to perform to justify the spend.
Advertised
The one I tried was Enzo, and it contains a warm peachy-cream shadow and a gold-tinged olive/khaki shade. Both are very soft and have pearlised finishes. The peach is fine, yep, grand. It's a creamy, neutral peach that's maybe a little warmer than I'd generally pick for a base shade. The khaki is a lot nicer - it's a bit like Mac's Sumptuous Olive. This sort of colour tends to look dead in the pan, but on my brown eyes perks up a lot, and is a tone I'd buy myself. I like this sort of shade for day, and would slap it on with either a pink or coral lipstick, for the auld contrastin' carry-on.
While the brand make lots of claims about being paraben-free and totally natural, this contains silicones according to the ingredients on the base. Not a problem for me, because that makes it smooth and easy to apply, but if you're after a 100% natural solution it could be an issue for you.
Any other concerns? I reckoned that this would shed down my cheeks as it's very, very soft - a lot lifts when you swirl a brush into it, but actually it stays put, is colour-true and it lasts well. Pigmentation is also very good.
All-in-all, not a bad choice if you're after a more 'earth-friendly' product, you like the whole mineral hoopla or are aiming to switch from mainstream brands over to smaller, more ethical ones. The brand is rolling out into stockists as I type, but you'll find it at the following locations right now:
Total Care, Royal Parade, Killaloe,Co Clare, 061 375 650
Tantalize, Clara Sports & Leisure Centre, Clara, Co Offaly, 057 9331 240
Sammar Beauty Bar, Main Street, Newtown Mountkennedy, Co Wicklow, 01 2812 188
Pretty Nails Pretty Face, 4 Old Dublin Road, Stillorgan, Co Dublin, 01 2064 890
Paulas Beauty Salon, 2 Dublin Street, Dundalk, Co Louth, 042 9339 616
The Retreat, 1a Bloomsbury Centre, Donore Rd, Drogheda, Co Louth,041 9832 400
The Salon, Oberstown, Tara, Co Meath, 046 9026 282
Nail and Beauty Bar, 94 Donaghmede Shopping Centre, Donaghmede, D13, 01 8474 344
Nail and Beauty Bar, Blanchardstown Shopping Centre, Blanchardstown, D 15, 01 8209 119
Nail and Beauty Bar, Pavillion Shopping Centre, Swords, Co Dublin (01) 8900 444
Nail and Beauty Bar, Northside Shopping Centre, Dublin 17 ,01 8771 326
Nail and Beauty Bar, Unit 9, Clarehall Shopping Centre, Malahide Road, Dublin 17, 01 8476 373
Advertised
You can also contact the distributor on 01 8409 124 to find out where else the range may be avaiable.