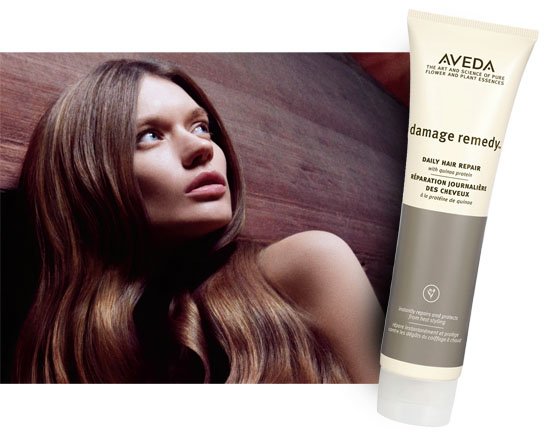 Peeps seem to have a love/hate relationship with Aveda haircare. If it works for you you'd fall down dead and take it to Hades with you - after all, you'd want to look nice for the ferrymen on the river Styx, wouldn't you?
Oh God. And now I have Chris de Burgh songs in my head.
Moving swiftly on, regarding the love thing, I'm thinking mostly of Be Curly's legions of rabid fans, but if you've been disappointed then you might not be terribly interested in the rest of this post. But sure have an auld read of it anyway, wha?
In keeping with their science-meets-nature ethos, and their haircare expertise (Aveda did actually start off as a hair brand, fact fanz), Damage Remedy Daily Hair Repair, €29, will join the existing Damage Remedy line shortly - on the 9th of May to be precise, but you'll actually get it exclusively at House of Fraser right now. If you really, really want it, like.
Advertised
They're calling this vitamins for the hair: essentially a leave-in conditioning product for use on damp gruaig, clinical tensile testing revealed that damage was 26% improved after one application. Sounds great, but I'd be a little sceptical about the permanacy of that claim - for example, nothing can repair split ends bar lopping them off or glueing them together (probably avoid doing that, eh?), so I'd be very doubtful that it can do anything of that sort.
Instead, what Daily Hair Repair sounds like it'd be good for is those of you with coloured, fried hair that needs extra help. It's perfectly safe to use on dyed barnets and it contains a cocktails of good-for-you ingredients like "organically derived quinoa protein, sustainably sourced from Peru, which penetrates the hair shaft to instantly repair damaged hair. Wheat protein also protects hair against thermal damage during heat styling and soy-derived oil, detangles hair to help protect from breakage during combing."
Sounds like it smells yum too: essential oils of bergamot, mandarin, and ylang ylang are in the mix.