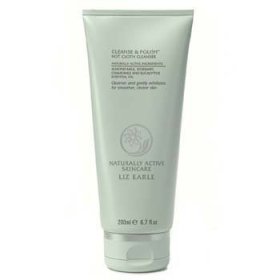 Yesterday reader mymy was asking for recommendations about what cleanser she should get, and was met with a wall of 'Liz Earle Cleanse & Polish' replies. Well, she was met with two replies, and that's nearly the same. But why were we recommending it?
Because it's bleedin' deadly, that's why. Yep, it's hard to get and you have to send off for it, but when it arrives, it's all been worth it. Liz Earle skincare is simply gorgeous. It looks good, smells delicious and is wonderful to use. Oh, and - it works.
The Cleanse & Polish Hot Cloth Cleanser is her signature product and I'd guess it's the one most fans start out on. It's not hard to see why people get hooked. It contains natural ingredients like rosemary, eucalyptus, cocoa butter, hops, chamomile and loads more goodness besides. You use it in conjunction with special muslin cloths and it makes for a relaxing and pampering cleansing experience. You fill a sink with hand-hot water and soak your cloth. Then you pump out the cleanser and rub it into your face and neck using circular movements - this is the time you really appreciate the gorgeous scent. Then, using the wrung out damp muslin cloth, you wipe the cleanser off, bit by bit.
The cloth exfoliates, while the cream deep cleanses your skin. It doesn't feel tight, it just feels soft and cared for. I can't imagine anyone reacting badly to this stuff and I'm definitely going to invest in a few more Liz Earle products myself, because they're just such a pleasure to use. And for such good quality, the prices are surprisingly reasonable - a starter pack of the cleanser and two cloths will only cost £11.25.
Advertised
Neutrogena Pure Glow Cleansing Cushions can eat their hearts out - now this is a proper at home facial experience.