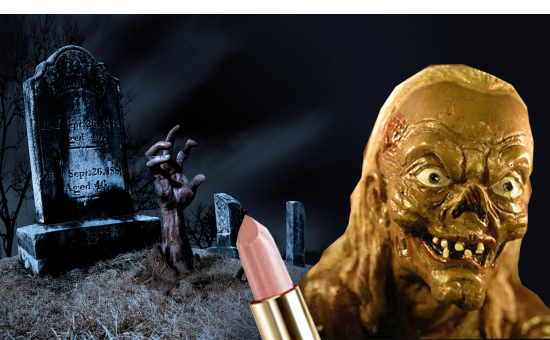 D'you ever look at a nude lipstick and think, "ah, isn't that lovely? That'd be only gorgeous now with some smokey eyes and a wash of my lovely sheeny MAC Mineralize Skin Finish?"  So then you try it on thinking you'll be the belle of the ball.
Instead, the result looking back at you in the mirror can only be described as cadaver-fresh. Ain't nothing like a nude to make you look like the Crypt Keeper. A tired, wan Crypt Keeper, at that.
Forget red, nude lipstick is seriously one of the hardest shades to get right. Far too many of them contain a lot of grey pigment which sucks the life out of your skin and makes lips resemble chalky slugs. Unless you're going for a very stylised look (like a Bardot or 60s thang), it's actually much more flattering to mimic the natural shade of your own lips, and try to stay within one or two shades of that.
As a rule, head for nudes with pink or apricot tones as opposed to flat industrial-looking beiges, as they'll be more lifelike, and therefore, far more flattering.
Advertised
And for the love of god, avoid extremes: matte nudes are very flat and dull looking, and pearlised finishes should be shunned unless you want to look like a Golden Girl. Not a bad thing in itself, of course, but if you're in your 20s, Blanche Devereaux should probably not be your style icon.
Look for a satin finish lipstick, is my advice. Queen of subtlety, Bobbi Brown, of course has a solution in the form of her Perfect Match service at counters, which aims to identify the natural shade of your pout and then provides you with a suite of shades that'll suit. Smart - but is anyone else offering similar? Yep, beauty brand Prescriptives will be rolling out a suite of creamy nudes in the autumn for all skin colours, so they're definitely worth looking out for.
If Bobbi Brown isn't your cup of tea and you can't wait for Prescriptives, Bourjois Effet 3d Les Nudes are terrific in the gloss scheme of tings; I am also partial to Shiseido's new Perfect Rouge lipstick line which contains several really good options as well.