 I'm a nervous picker. That is, I pick the skin around my nails when I'm nervous or stressed, which is actually rather often. In an effort to combat this, I got myself into a hand care regime. After all, no matter how good an impression you're trying to give at an interview, or on a date, or at work, picked or bitten nails are a giveaway that you're not a calm person. I don't need anyone knowing that I'm less on top of things than I give the impression of being (!), and neat, tidy hands help with the illusion that I'm calm, collected, and not in any way bricking it to be at this interview / talking to a group of people I don't know / whatever else.
I've found that the best thing that works for me is to keep my nails polished. Once I see them all nice and tidy, I find it harder to pick at them, so I'm always on the lookout for nice and interesting polishes. I've always like Nails Inc, I'll confess that now; Their gel top coat is the only standard polish I know that will keep nails looking good for a week. When this Alice + Olivia for Nails Inc collection landed on my desk this week, I positively swooned.
Why?
Because it's a small, sensible, to-the-point collection with something for everyone.
Advertised
The shades are perfect for winter. Though I don't like deep pinks generally, Rosé and Poetry is a rich, warm pink which looks fantastic on the nails. Midnight Merlot is a deep burgundy. Black Diamond is a sparkle-ridden steel grey, which is beautifully iridescent, while Next to Nothing - my favourite - is pinker than it looks (pictured on the hand below), and is an absolutely perfect nude pink.
The polishes are €17 each, but for €35, you can buy a little kit of four mini polishes. This includes Next to Nothing - the nude shade above - as well as three others - another burgundy, a gold sparkle, and a metallic red.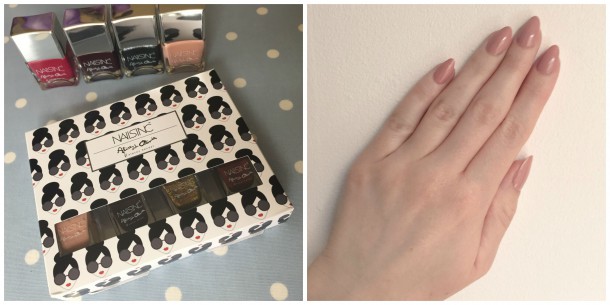 What do you think of this collection? Is it supremely wearable, or a bit dull? Share your thoughts in the comments!