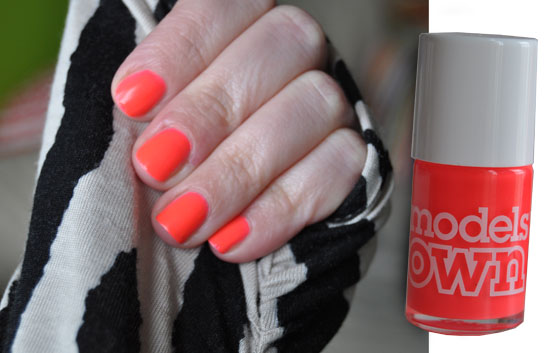 Dilly-dallying about River Island's accessories section on Saturday (RI has had so much of my cash the last six months or so, the stuff has been stellar), I picked up a bottle of Models Own polish in Pink Punch for €6.50, to go with the poodle-adorned top and cupcake necklace I was also buying and yes, I definitely refuse to grow up.
The pic makes the shade look like a flouro orange but there is pink in there - it's almost like a neon coral, and coral often veers towards red, so I guess that makes sense. It's not pink in the traditional sense, obviously.  So, I love the shade, but am less impressed with the formulation.
This stuff is waaaaterhey (must be said in a Cavan accent for max effect). It's super-duper watery. Like painting your nails with, eh, water. FOUR coats it took to get them to any level of intensity, but to be fair, this stuff does go on evenly and easily and it dries fast too.  So it's not really a problem, it just takes a little longer to get nails to where you want 'em to go. Longevity's not amazing either but I'm no judge because everything, from DIY jobs to salon manis fall off my nails within hours as they're weak and flaky at the tips.
Advertised
For €6.50, I'm not gonna gripe too much - I love the shade, it was cheap and hey, it was a nice addition to Saturday night's poodle-inspired outfit.  I got mine in Liffey Valley; you can also find limited amounts of Models Own products at larger River Island stores or online from ASOS.