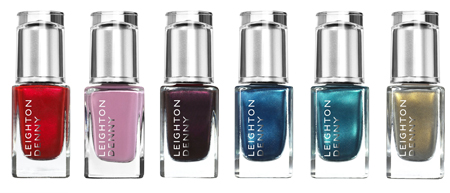 What better news to cheer us up in dull autumn weather than to be told about a new Leighton Denny nail bar, eh? I will happily hold my hand up and say I adore Mr Denny's screamingly-bright colours and on-trend seasonal collections, plus I've never had a Leighton lacquer-job I didn't like.
The new experience is Ireland's first out-of-salon Leighton Denny nail bar, and you can now head to the cheery pink and much-mirrored mani zone in House of Fraser, Dundrum, for some essential pampering with Pamela Laird.  The On The Move Manicure takes 15 minutes, costs €22 (€25 for French), and is the ideal shopping breather. Don't stop for a coffee, ladies - it's 2008! Stop for a coffee-coloured nail polish instead - arguably as reviving. If you need a longer sit down period, then there are Custom Manicures for €40 (add €5 for French) which take half an hour and the Immaculate Mani will require sixty minutes of your time, at a cost of €50 - plus the extra fiver for those white tips. Call 01 299 1429 to make an appointment.
And sure, while you're out there, you can pick up the new limited edition colours, too. Check them out above - they're €16 a pop,  and you can choose from (l-r) caught red handed, little thief, no comment, daylight robbery, jailbird and doing time.
Advertised
PS:  Don't fret, non-Dubliners. There are now locations country-wide  where you can get your fingies glammed: the Espa at the Europe in Killarney, The Park in Kenmare and Athlone Town Centre all do Leighton. Cork will come on-stream shortly (a new nail bar is opening beside BTs on Patrick Street), and elsewhere in Dublin, The Beauty Parlour, Terenure, Revive in Milltown and Make Up For Ever on Clarendon Street will also oblige.