 When I hear 'Aveda', I generally think of the brand's widely admired haircare range. I'm aware that they have a deserved reputation for natural ingredients and divinely scented hair and body products, but when it comes to makeup, they've never really been on my radar.
That's why I was really surprised at a recent product launch to be introduced to this collection. There's something so striking about this campaign image - I was transfixed the first time I saw it. It's just so beautiful, but in such a weird and non-straightforward way.
It's no coincidence that the collection is called 'Culture Clash', the image is an interesting mix of Asian, tribal and futuristic influences, and the colour combinations in this collection are also quite jarring, but in an incredibly appealing way!
The basic idea behind the collection is pairing the bright pops of colour - particularly on lips - that we're seeing everywhere at the moment with rich, earthy tones like bronze. The result is a collection that's almost like a capsule wardrobe for your face, and from a brand that I'd pretty much been ignoring!
I'm genuinely a little embarrassed - there aren't many makeup collections that can be used to create such futuristic, 'fashiony' looks and also create beautifully subtle, wearable makeup for actual people who, you know, eat cake, like me. So how have I overlooked this?
Advertised
The collection includes a very highly pigmented opaque lipstick - the Nourish-Mint Smoothing Lip Color (€17) - in Peruvian Lily (pictured), a really daring pink, along with a corresponding  matching lip liner in Cactus Blossom.
For those who are not brave enough to wear such an aggressively bright pink lip, there's the Sheer Mineral Lips Color in Sheer Muscadine (€17), a deep reddish purple shade. Don't be intimidated by the lipstick bullet - the texture is light and moisturising, and the sheer formulation makes this lipstick flattering and easy to wear. There's also a Rehydrating Lip Glaze (€22)- that's a gloss to us - available in two shades.
The Petal Essence Eye Definer (€19) (translation: eyeliner. What's with the convoluted names, Aveda?) in Graphite is richly pigmented, long lasting and as an almost greenish undertone to its grey hue that compliments the rest of the collection wonderfully.
Finally, the Petal Essence Single Eye Colors (€17.50) come in six shades in all - three subtle pastel shades, and three deeper, earthier hues. When combined, the colours create a truly striking look. Just look at those colours!
Advertised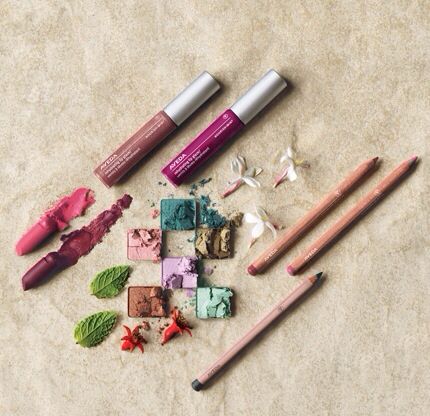 This is certainly a strange collection. It's quite underwhelming to look at, but the moment you start to play around with it, it literally comes to life! What do you think of this collection? Will you be giving it a go?