 It has finally happened. FINALLY.
Back in the day, before I was lucky enough to become part of the Beaut.ie team, I was an avid fan of the site. Among my favourite posts were those hilarious ones on 'Handsome Claude'. If you're not familiar with handsome Claude, you need to be. Otherwise known as Claude Defresne, Clarins International Makeup Artist and trainer, Claude is very nice, very knowledgable about makeup, and very French. Did we mention handsome? I forget.
I finally got to see Claude in action, and am able to lord it over the other Beaut.ie ladies, which means I win. Nobody else knew we were competing, but still, I win.
It was great to attend a Clarins Masterclass where I got to learn from Handsome Claude AND admire his very chic blue velvet shoes all at the same time. He was nice enough to recreate the absolutely beautiful makeup that he did for Clarins' recent campaign  image, which promotes the lovely new collection. You can see how he does it here.
We were given a thorough introduction to the new Ladylike collection, and it's lovely to be able to say with total honesty that it is so chic, so feminine, and so lovely. A bit of understated French elegance wouldn't go amiss this chilly season. I've been wearing the products, and receiving compliments (which is always a good sign). The collection will be available from September.
Here are my two favourite products from the collection, and the new Clarins foundation for you to have a look at: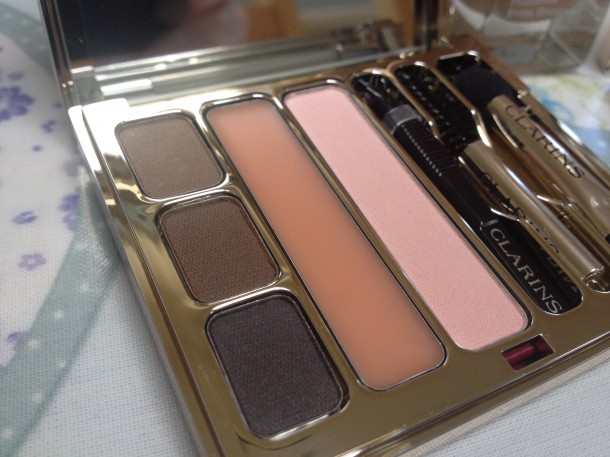 Clarins Kit Sourcils Pro (€41)
This little eyebrow kit is a standout product. It contains three brow colours ranging from dark blonde to blackish brown, some wax to set your brows, a highlighting colour which is a beautiful, pinkish hue and three mini tools - a little tweezers, a brow brush and a double-ended eyeshadow applicator/angled brush.
This is, when you think about it, great value for money. On a recent overnight trip, I brought just this and some mascara as my eye makeup - you can use the shadows on the eyes and in the brows, and the black shadow on a wet angled brush makes a perfect eyeliner. It's lightweight and a very handy addition to any makeup bag.
Advertised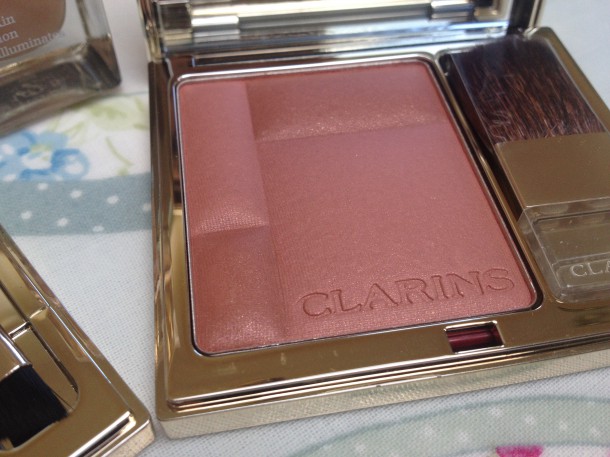 Clarins Blush Prodige in Tawny Pink (€33)
I am in love with this blush. The shade is just perfect - full of depth for autumn, but without looking too deep or heavy. This pink would work on so many skintones, and is shot through with an incredibly fine sparkle which gives cheeks a glow. The shade of pink is like a grown-up version of the fluffier pinks we've been wearing for summer. It's just beautiful, and though it's pricy, I think it's worth it. This is just quite special!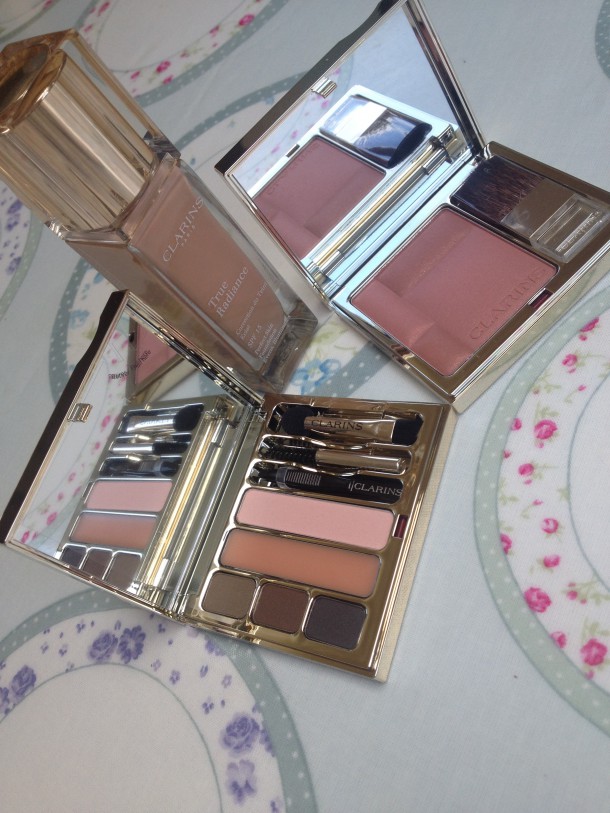 Clarins True Radiance Foundation SPF 15 (€31)
This foundation is, interestingly, forumlated for all skin types. Though I like a dewy finish, words like 'Radiance' generally ring alarm bells for me - a glowy finish can quickly look less than radiant on my oily T zone!
I was pleasantly surprised to discover that True Radiance is oil-free, but it still delivers on the glow front. I needed a touch of powder to set it at the centre of my face, but it has held really well. The coverage is also really impressive - this is a true winter foundation - apply a drop for medium coverage, and a little more for fuller coverage. This foundation gives good coverage without looking like a mask -I'll definitely be turning to it again during the winter!
Claude recommends mixing a drop with Clarins double serum, warming it between the fingertips of both hands, and then dabbing it on chin, cheeks and forehead before pressing the remainder into the skin with fingers. It's a nice method and works really well, plus the addition of a drop of serum is great for more mature skins.
I'm really taken with this collection. It's the perfect winter makeup!
Advertised
What do you think? Are you coveting any of these lovelies for the coming season? To the comments!