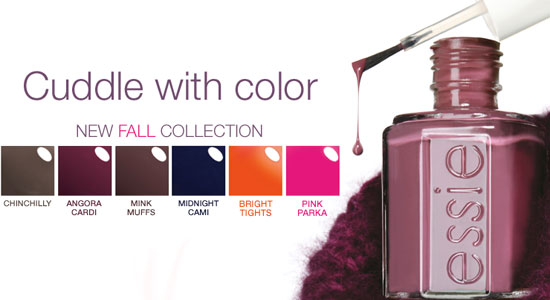 After a summer of corals and neons and tropical hues, I'm just about ready to switch to nail varnishes in moodier colours as the mornings start to get darker and the nights draw in. I am obsessed with the number of daylight hours in any given day and have Himself driven around the twist saying Auld Wan things like "God, it's so dark, isn't it hard to believe it's not even half eight yet?"
Essie's latest releases have come along at just the right time to distract me from the creeping loss of those precious daytime minutes. This year's Fall Colour Collection is called "Cuddle With Colour" and is mostly a line-up of sleek, elegant, cosy colours with names like Angora Cardi (deep dusty rose) and Mink Muffs (smoky plush taupe) that make me want to curl up on the couch with a good buke and the fire going. Chinchilly and Midnight Cami (sleek granite grey and shimmering navy blue) keep things fairly muted, but there are also pops of unexpected brightness in the form of  Bright Tights (electric orange) and Pink Parka (hot pink).
Advertised
Cuddle With Colour is on-counter now.