 Yes, I know, I'm starting to bore the hoop off you all with my rants about the splendiferousness of Hydraluron. In case you've been on the moon, I'll tell you that it's a cult hydrating product from Indeed Labs.
Probably based on the astronomical success of Hydraluron, the folks at Indeed Labs have furthered the range, and introduced this new product - Hydraluron Moisture Boosting Masks (€26.99). Each box contains four cloth masks that are absolutely jammed with squishy skincare goodness.  The texture is a bit weird - the masks are literally saturated with gel, so they're very wet and quite heavy when applied.
These gel wonders  contain masses of hyaluronic acid, just like Hydraluron. But they also contain enzymes for slow-release action, promising to continually hydrate your skin over a twenty-four hour period. Promises like those just disgruntle me, to be honest. It's like that guy, you know the one, who says he'll call you? Yeah...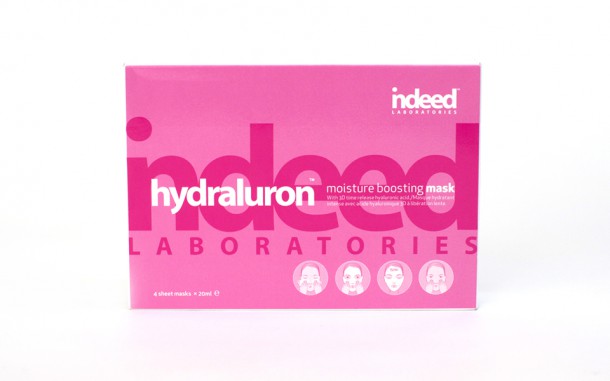 But Indeed Labs don't need to make these highfalutin claims because their products are great and they work. You simply cleanse and dry your skin, remove a mask from its foil pouch, bang it on, leave it for fifteen minutes (or longer, if you have the time) and then apply moisturiser to your still-damp face. A hydrating formula will make the most of the hydraluron. Oil alone won't work effectively with it.
These pricey fellows are by no means an every night product. if you could stretch to them once a week, you'd be doing well. They're an excellent pick-me-up for really dehydrated skin. I've used these a couple of times before bed, and though my skin was by no means in a bad way, I woke up with beautifully soft skin. The few dehydrated patches I had were hugely improved - my skin looked bright and felt supple.
Advertised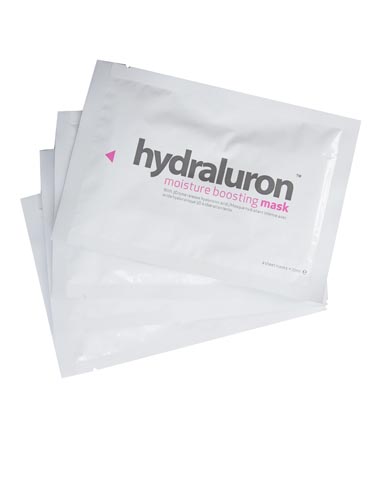 I'd particularly recommend these as a skinsaver on long flights. If you don't mind the fact that everyone else on the plane will definitely think that you are a terrorist in a hockey mask, then you'll get off the plane at the other end with hydrated skin that won't have that post-flight icky dry feeling.
If your skin is both dry and dehydrated (or you're not sure which, it can be hard to tell), then one of these masks followed by a hydrating moisturiser and then an oil will perk your skin up nicely by morning.
Whatever you do, just don't look in the mirror. Seriously. You look like a serial killer.
Hydraluron Moisture Boosting Masks are available now. Will you be investing?