 Have you ever thought about rubbing a Solero on your face? Because if you have I have the perfect product for you.
The Body Shop have just released their Vitamin E Aqua Boost Sorbet, a cooling skincare product that aims to plump and hydrate the skin. With a texture that makes it ideal for hot weather, this will be finding its refreshing way into bathroom cabinets all over the country.
The first thing I have to say about it is that is smells absolutely divine, like a fruit platter on ice that's been delivered by the cabana boy. I've been trialling this for the last two weeks, mostly in the rain but sometimes the sun has made an appearance (but neither has there been any sign of the aforementioned cabana boy).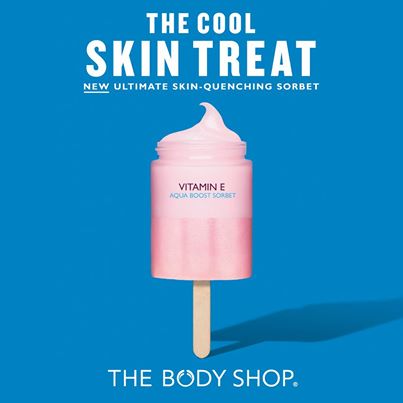 The texture is unlike anything I've used before. It really does feel like what I imagine a melted sorbet would be like, a light and almost velvet-y gel that is absorbed quickly.
It contains The Body Shops' Aqua Sphere technology - microscopic moisture spheres that act like tiny reservoirs and hold hundreds of times their weight in pure water. In fact, each pot contains over two million Aqua Spheres, which the makers say will deliver a 24-hour feed of moisturisation to the skin (24 hours of feeding? 'no wonder 'twill be plumped, wha').
Advertised
The product does feel very refreshing and cool on application, and the skin just soaks up the ingredients that include wheatgerm oil, shea butter and soya oil. And it contains mineral particles to help absorb oil and mattify, so that the skin stays shine free and fresh all day.
The sorbet differs from a cream in that it's lightweight and refreshing, as opposed to being rich and nourishing. And while many people will opt for a cream in the Winter, they will plump (geddit) for something lighter in the Summer. And this is a great option for them.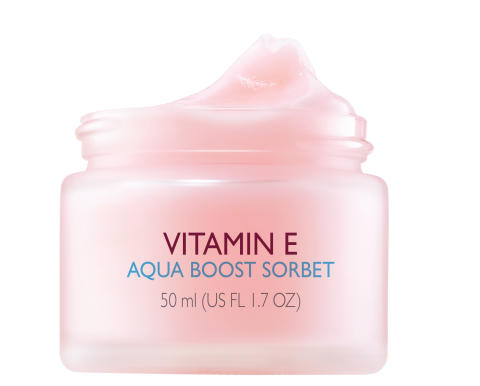 But alas this is not the case for me. My skin felt refreshed on application but missed the soothing, rich texture of a cream. Now, I will say that I have skin more sensitive than the fella who did the 'Leave Britney ALONE' video and it likes to slathered and pampered (and would probably even wear a little face-bathrobe if such a thing existed).
If you have skin that isn't overly sensitive, is oily and prone to clogging, then this might just be the one for you. But I'll just stick with the Solero and the cabana boy.
The Vitamin E Aqua Boost Sorbet is priced at €15 for 50ml and is available now.
Advertised
Have you tried this sorbet? Do you like the sound of the light, refreshing texture or do you prefer rich, heavier creams like me? To the comments!