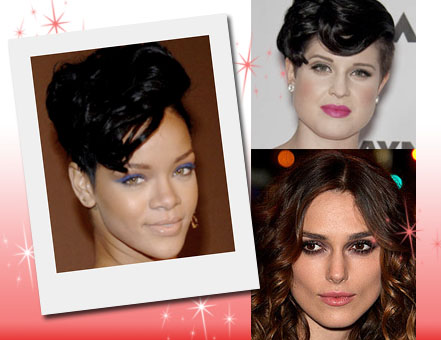 Planning a big one tonight? Make sure your makeup screams statement (and definitely not state) in that case, gals. That means honing in on one element and working it to the max. If you're emphasising eyes, then let lips relax under a coat of subtle gloss or lipstick, and likewise, if eyes are taking a back seat, let your pout run riot. With that in mind, here are three looks that I think will do any party dress proud.
Most likely I'll be channeling Rihanna's fab purple flicks, meself. Worn with an immaculate  base, a lick of bronzer and a nude gloss, this look is edigily sophisticated. So, how to do it? I'd use MAC's  Fluidline gel liner in Macroviolet and a precise brush like Smashbox's handy Arced Liner Brush #21 to lay on a good thick stripe of colour, with a short wing-out at the outer corner of the eye.
Not got a Fluidline handy? A purple eye shadow will do the job too - the trick is all in the application. You might find primer will help it stay put, but do get it down into the lashline for depth of colour, and using a dampened brush will help you to get that ultra-desirable sharp line up top and on into the flick. I don't get on with sharply angled brushes, so for this I'd go for one like Bobbi Brown's Ultrafine Eyeliner Brush.
Advertised
Kelly O's recent pink lips, black liner and flawless base is a good bet for commitment-phobes. Lipstick can be a great way to experiment with colour because if you hate it, you can wipe it right off, and no harm done. While Miss Osborne is rocking pink, this look will work equally well with a red or plum shade - and you'll be bang on-trend, too.
I'm a big fan of shocking pink, and favourites include Dior's great Dior Rouge lipstick in Star Fuschia. If opaque colour is too hot to handle, look for the shade in a gloss. Chantecaille's Brilliant Gloss in Glee or Dior Addict High Shine lipstick in Backstage Pink is shimmery, shiny and very glossy. Also check out Bourjois' Rouge Hi-Tech Lip Tints for a wash of colour that's very flattering.
Kiera Knightley's posing a look here that's already an evening classic. Almost everyone suits a smokey eye, and hers is nicely subtle, plus it's balanced well with a rose pink lip - try YSL's Rouge Volupte in Sensual Silk or Chanel's Rouge Allure in Imagination. The secret here is in the shadow colour you choose and the amount of time you spend applying it. Blend, blend, blend until you think you can blend no further - and then do a bit more. Tips for the ultimate smokey eye are here and here, and before Christmas I told you about some navy and midnight blue shadows that would be ideal for smokin' eyes.