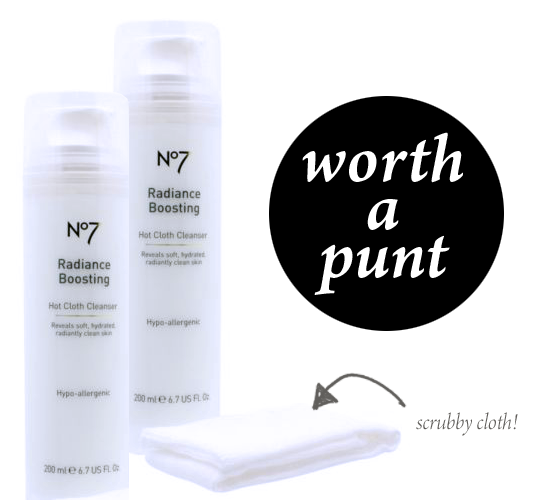 Remember last week I was telling you about my adventures in cleansing without cleanser? Well, when I did - eventually - manage to be in the vicinity of a shop while also thinking that I needed to get some cleanser STAT, the nearest retail outlet was the teeniest tiniest Boots I've ever been in.
I wasn't sure whether I should actually step on to the premises or just look for a hatch to place my order through.
Faced with a squint-or-you'll miss-it selection of skincare, I managed to kill two birds with one stone by bagging a box of No7 cleanser and finally getting rid of using one of the ubiquitous €7.50 off vouchers. Properly called No7 Radiance Boosting Hot Cloth Cleanser, I've tried and liked it once or twice before - one of my friends swears by it - and reckoned it was worth a cut-price whirl.
In the box is a very decent 200ml of product in a convenient, hygienic pump dispenser, together with one small square muslin cloth. I found the included cloth to be reassuringly scrubby compared to other brands - oh hai, Liz Earle! - but I suspect that skins more sensitive than mine might not appreciate its abrasiveness, and it doesn't really hold much heat when it's been wrung out. The cleanser itself is a white cream, fairly light in texture, and offers plenty of play time so can be thoroughly massaged across the face and neck without sinking into the skin.
Advertised
In use, it cuts through everyday make-up, including mascara, like a hot knife might slice through the cocoa seed butter on its ingredient list, although it's been my experience that an extra session with the cleanser and muslin cloth is required if skin's to be left thoroughly make-up free. Afterwards my skin feels perfectly cleansed, smooth, comfortable - not a dry patch in sight - and I'm still pleasantly surprised by just how glow-y and even and redness-free my complexion looks after every use.
I wouldn't normally use a proper hardcore make-up removing cleanser twice a day, but this leaves my skin looking so well that I'm making time for it in my routine in the morning as well as at night, and I've dramatically reduced the amount of foundation I wear as a direct result.
If you're looking for a budget, easy to get hold of hot cloth cleanser - or just have a €7.50 voucher burning a hole in your wallet - I'd say No7 Radiance Boosting Hot Cloth Cleanser is definitely worth a punt.