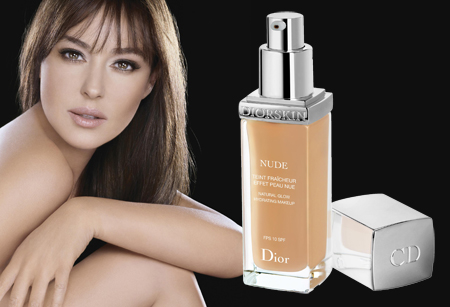 I do love me a new foundation, so I was pretty darn pleased to get my hands on Dior's latest launch, Diorskin Nude natural glow fresh makeup.
With a fluid and a foundation powder in the range (which you can use with the fanciest buffing brush I've ever seen), I plumped for the liquid version, Natural Glow Hydrating Makeup Fluid SPF10. Even though I'm slowly coming round to mineral makeup, no matter what, my skin still prefers that extra shot of moisture.
And this is moist.  That's thanks to almost 40% water in the formulation, so while it smooths on like a dream on my skin, for those who need more coverage, this product probably won't cut the opacity-mustard.  Oh - and I should say it's no ordinary usice in it - this stuff contains a cocktail of minerals, vitamins and trace elements, so Dior are claiming treatment benefits for it and have conducted a test for effectiveness on 30 women. They said that, "skin became more beautiful over time, even without makeup." Dermatologists confirmed the observation too.
There you go, so. In nine shades, 020 is right for me (as a ref, I'm a MAC NW20 gal) and while I've only worn this out and about once so far, I really liked the finish. No flakes, no dryness and nice on-the-light-side-of-medium coverage mean I think I'll be hanging on to this one. €43 at Dior counters now.
Advertised
Check after the cut for an image of the  powder foundation and brush.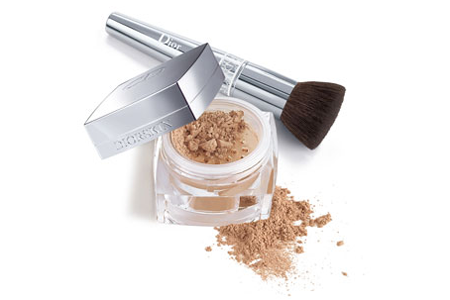 Much more hydrating than yer regular powder foundation product, this baby contains almost 20% water, so it's less drying and may be The One for those of you who'd like to try a powder base, but are put off by the dessication-factor. Downside?  It's still messy and hard to carry around. Dior Natural Glow Fresh Powder Makeup, €43, brush, €31.