 NUXE lip balm can be found backstage at fashion week and on set for high-end photo shoots. But what makes this lip balm so special?
NUXE lip balm is one of those products that it would be easy to walk by. After all, if you didn't know better, it just looks like a small pot of lip balm much like many others out there. But Reve de Miel is the balm that you'll find in every makeup artist kit, both backstage and on photo shoots.
It's a bit of an industry secret, but we think it's about time everyone knew about it.
NUXE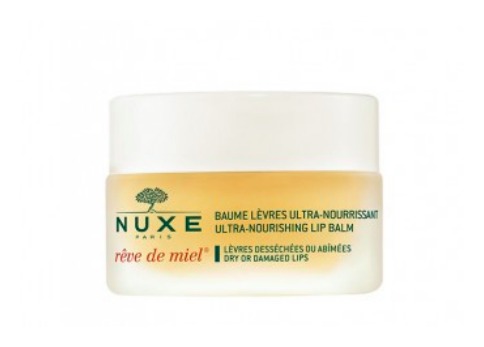 As a traditional lip balm
Advertised
The main thing that makes the Reve de Miel special is the texture. When used in its traditional capacity, it hydrates and smoothes lips, leaving them plumped. It also tastes and smells really lovely, which isn't necessarily important, but is always a nice touch.
As a lip primer
I mentioned texture already, but what I didn't mention is that the NUXE lip balm has a matte finish, which makes it particularly good to use as a lip primer before applying lipstick, especially, when working with matte lipsticks (such as the Mac Retro Matte formulas). If you use your ring finger to pat on a light layer of the balm to prep lips, you'll find that the finish and wear time is vastly improved, as is the comfort, too.
As a brow tamer
Some makeup artists like to use a brow gel or even hairspray in brows to keep hairs in check. But if you want a soft finish, the NUXE lip balm is perfect. Simply take out a small amount using a cotton bud and brush through brows. The matte effect of the balm looks natural, and also helps to hold powder in place to make brows look fuller if tapped on top too.
So there you have it, three reasons why this balm is the first one makeup artists reach for. But if you need another one, check out how it can come in useful when covering breakouts, too!
Advertised
Have you tried the Reve de Miel Balm before? Would you be tempted now?