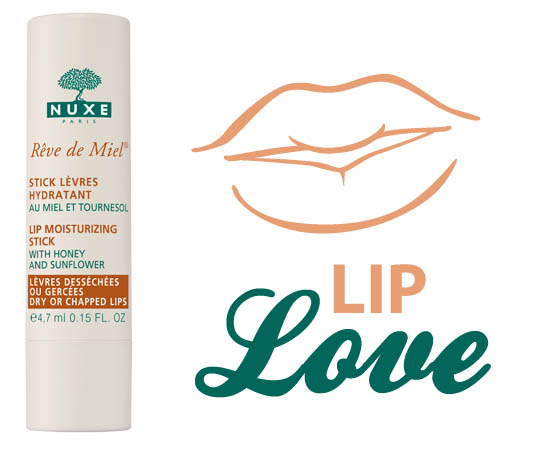 When the Nuxe Reve de Miel product line was revamped a few months ago, it was bad news for my hands, but good news for my lips, as my favourite Ultra-Nourishing Lip Balm was joined by a Lip Moisturising Stick, €6.61.
I've been using the Ultra-Nourishing Lip Balm for years now and it's a can't-live-without product for me and for many of you too, to judge by comments on the blog. It even earned a place in the beauty hall of fame that is the Beaut.ie Gorgeous to Go book (my little girl always insists on dabbing the balm on her lips when she sees me using it and she ran excitedly to get it after spotting it in the book), so you know it's up there in good company with many other excellent beauty products.
But while the heavy glass jar that the Ultra-Nourishing Lip Balm comes in gives it good dressing table display cachet, it doesn't really make it easy to transport. This hasn't really been an issue for me unless my lips are particularly dry or reactive, as I generally find using it in the morning and at night to be sufficient, with another lip balm stick as needed during the day. But I have often thought that it would be lovely to have a stick version of my Nuxe favourite to carry around.
Advertised
Lip Moisturising Stick doesn't disappoint. It has the same delicious grapefruit scent and is packed with nourishing botanicals such as sunflower and macadamia nut oils, barley extract, argan oil, shea butter, Vitamin E and of course the honey that gives the product line its name. It glides on easily and leaves lips smooth, soft and comfortable. It's not as rich and nourishing as the Ultra-Nourishing Lip Balm, but it is a good product to use in addition and one application keeps my lips soothed for a few hours at a time.
If you're already a fan of the Ultra-Nourishing Lip Balm, but also like to use a lighter product in addition, then Lip Moisturising Stick is definitely one to try. And if you've found the Balm to be too heavy or rich, then you might like the stick as a lighter alternative, with the same great benefits.