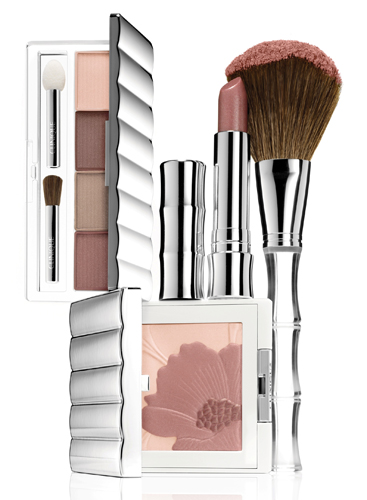 Bamboo Pink lipstick by Clinique is one of those products that grew in popularity purely through word of mouth. You could call it a true cult classic in that the company didn't set out to make it such a grassroots success - but a brand hero it is, regardless.
It's a really wearable day shade; a shimmery nude with a hint of pink, and while Bamboo Pink is a bit too old for my shocking-brights taste, millions disagree with me: it's one of Clinique's best-selling lipsticks, and the brand have just launched a small limited edition collection of makeup to complement it. All is 100% perfect for day wear, making it a great buy for work.
The Bamboo Pink collection features a couple of really nice limited edition pieces like the Colour Surge Eye Shadow Quad, top left. At €31, you get four pinky-brown shadows with a hint of shimmer. Plus points for the packaging too - I am really liking the perspex and chrome palettes and compacts Clinique launched last year. This one has a moulded lid, so it's even nicer, and ideal for in-office touch-ups too.
Advertised
Also limited is the Fresh Bloom Allover Colour compact in Bamboo Pink, €34, which you dust on for an all-over hint of colour and shimmer; the Shimmering Stripes Powder Blusher in Cabana Pink, €34, and Cream Shaper for Eyes in Chocolate Lustre and Cocoa Shimmer, €15.
And if you're already a fan of the lipstick then I've saved the best for last: there's also a limited editon Butter Shine lipstick version of the colour for €19. Hurry if you want it - it's already sold out on clinique.co.uk.