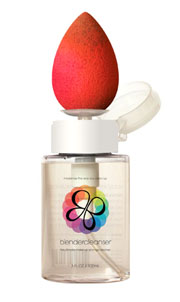 Some time ago I blogged about The BeautyBlender, a wonderous doo-dah that's specially designed for foundation application.
At that stage, it could only be bought online, but now it's available on our fair shores, in the Makeup Room - a beauty haunt that's fast becoming an essential place to check out, especially based on the Nix'ie stuff I've also been trying.
Anyway, onto the matter at hand. The blender sponge is a cheery bright pink colour which I immediately liked, and its soft, cuddly wee curves actually make it really really easy to use when applying foundation. You truly do get a streak free finish, and while you definitely use more product with the sponge than you would with fingers, I will hold my hand up and admit I like it way better than using a foundation brush. Seriously, I was very surprised at this, but it's great!
An essential part of the BeautyBlender kit is the cleanser. Cosmetic sponges can be completely gross, it's true, but the cleanser is designed to be hygenic, eco friendly and all round fabillis. You wet yer grubby sponge with a blob of cleanser, suds it all up, and then set it on the top of the cleansing pack - like the pic on the left - and leave to dry. Re-use at will, for up to three months.
Advertised
And that's it! Buy cleanser and sponge for €30, or a sponge alone for €17.50. This is a great gift for self, or a brill pressie for a makeup obsessive.