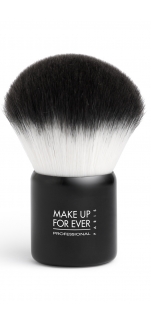 We blogged recently about pro-brand Make Up For Ever's launch of their High Definition range, which includes a lovely liquid foundation, as well as an innovative HD Powder - a white, crystalline product that gives a flawless finish.
To go with that range is a new kabuki brush, which I've been using for lots of other things. I do love these brushes, and make no mistake, they are a very particular sort of tool. The short head is stuffed full of tightly-packed bristles, so that you get a dense surface that's great for buffing on mineral or other powders. They're quite unique in that regard, and you won't get quite the same effect with a looser powder brush.
Advertised
This particular one is velvety-soft and lovely to use. Not cheap at about €30, I agree - but this is a quality brush you'll have for years, and well worth the investment.