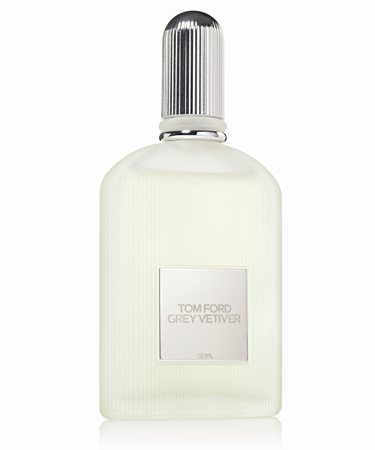 Lets not beat about the bush here: fragrance for men tends to be at the discretion of the giver. And by 'discretion', I mean olfactory preferences. If I don't like it, he don't wear it, is the unspoken rule in our gaff. After all, I am the bringer of the booty and the distributor of samples, so if one crosses my desk I don't want to nuzzle off his neck, it gets passed onto the willing legion of happy testers.
There is, however, abso-bloody-loutely no way anyone is getting their grubby mitts on Tom Ford's new offering, Grey Vetiver. I love this man - so does Aphrodite. I am the proud possessor of a treasured pair of his sunglasses and a regular White Patchouli wearer. Himself uses the original Tom Ford for men on a regular basis and grunts his approval of its un-apologetically sexy ways."Yeah, I like it," he has causally commented. This is like the Worlds Highest Praise for a man-product, believe me.
Grey Vetiver is lighter, fresher and more green. Oh that'll be the vetiver, so. It's also got orange flower and grapefruit, sitting on a base of orris and warm amber woods. So it wears really nicely and is just the ticket for a guy who's bored rigid by regular department store offerings.
Advertised
As always Tom himself gets the chest rug out for the ad campaign, so really, everyone's happy. Himself gets a new posh bottle of juice, I get to smell its delicious ways AND admire Mr Ford: truly this is a gift that keeps on giving.
Grey Vetiver will be available from 2nd November at Brown Thomas Dublin for €60.