 There can be some confusion around dry skin. The idea that skin can be both very oily and exhibit signs of dryness is confusing and maddening. If you find yourself with oily, acneic skin, it seems like the greatest injustice EVER when you notice that your skin can also be chapped and peeling.
That's why it's  helpful to recognise the difference between dryness and dehydration. Your skin is dry when it's lacking in the oils it creates naturally. Your skin might exhibit signs of dryness simply because you have a dry skin type due to your genetics or diet, or because you're using alcohols to try to counteract oiliness. This is disastrous for skin. If you have very oily skin, ditch the alcohol - there are other ways of helping oily skin, which we'll go into below.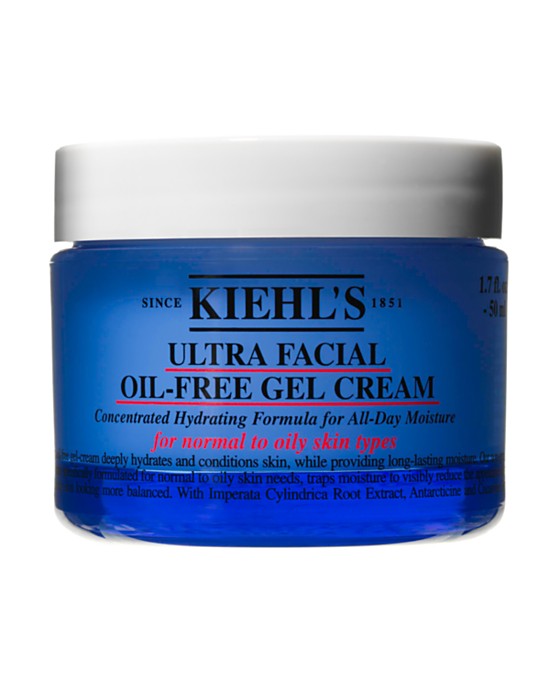 Dehydrated skin lacks water. This is why your skin can be oily as feck and still look dry. Obviously, that sort of skin has no issue with lacking oil - it needs some water! You can help this by drinking a lot of water, but choosing topical products which are hydrating rather than moisturising (i.e. oily) can help. Putting rich, oily products on dehydrated skin just isn't treating the problem.
This new moisturiser from Kiehl's is a dream come true for very balanced, normal skins and for very oily skins. And it's wonderful for men! They have naturally oilier and thicker skin than women, so something light, non-shiny, easily absorbed and hydrating is perfect for male skin.
We did recently feature the lovely Oil Eliminator Range for men from Kiehl's, and it's great. However, the key to minimising oiliness is to give the skin exactly what it wants. This will stop it from overproducing oil and result in balanced, happy skin. Also, Kiehl's Ultra Facial Oil-Free Cream Gel is a full €6.50 less expensive than Oil Eliminator, and it does the job really well.
This moisturiser is perfect for men, but it's also great for regular gym goers who want to moisturise prior to working out - it will be absorbed by the skin before you start to sweat and you won't finish your workout with a slimy face, or one that feels taut and dry.
Advertised
Acneic teens will love this, as will ladies who don't wear makeup and find themselves getting shiny throughout the day in the warmer summer weather. Teamed with a hydrating wonder serum like our beloved Hydraluron, this will rehydrate skin in no time. Just remember that Hydraluron must be put under hydrating products. Applied under an oil alone, it won't really do anything. Teamed with a really hydrating product like this one from Kiehl's, you'll see results in no time!
The moisturiser has an unctuous, cooling and gelatinous texture that feels lovely to apply. Ingredients include Imperata Cylindrica root extract, which is very high in potassium and promotes skin hydration, as well as the glycoprotein Antarcticine.
Glycoproteins are miracle workers for dehydrated skin. They boost the skin's oxygen content, hence increasing the rate at which skin cells undergo their various cool and sciency processes by enhancing the production rate of ATP (adenosine triphosphate), which is rich in energy, and which you might recall with some resentment from Leaving Cert Biology. Feck off, photosynthesis...
It also contains glycerin, which is, despite some folks dislike of it, is an effective hydrator.
At €28.50, this is on the reasonably priced side for Kiehl's. We approve! It will hit stores in August.
Advertised
Are you demented by oily skin? And will you be giving this a bash?