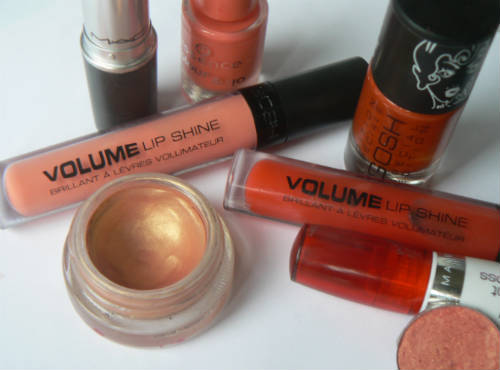 Like the majority of Irish women, I'd give a limb to have a millisecond with any one of Michael Fassbender's five limbs.  I'd also like to have a pink undertone to my pale skin. When I was younger, I assumed that I should match this tone with pale pink cosmetics. It was only when I friend gave me a peachy blush that I realised how pretty colours in that orangey family are on my typical Irish complexion.
Morange by Mac
At the start of my orange kick, I bought Morange by Mac. Its formulation is creamy and thick, giving a wash of opaque colour that's comfortable and long lasting. Surprisingly, it doesn't look too shocking when applied, just fresh and a little different. At 17.50, it's quite costly but, for me, the quality and unique shade make handing over the cash more palatable.
Gosh Volume Lip Shine 
For a more day-time appropriate pop of colour, I plump for Gosh Volume Lip Shine lipgloss in either Juicy Orange or Soft Coral. Its consistency is relatively thin and not sticky, resulting in a fairly hassle free application.
Last of the lip loves is Maybelline's soon-to-be-released (May 2012) Super Stay 10 Hour Stain Gloss - Emma reviewed it yesterday.  The shade I love  is a warm red with a soft gloss finish.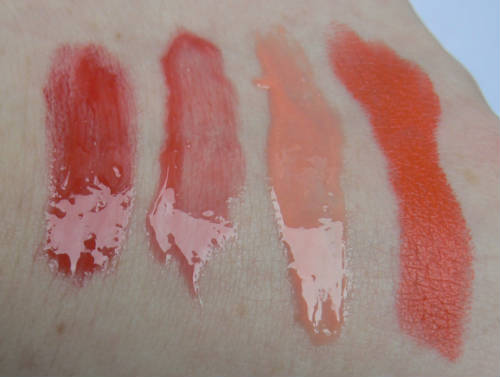 Advertised
Nails
From early spring, essence have been releasing a tonne of on-trend polishes at a super pocket-friendly 1.29 per bottle. Essence C'est La Vie is a more muted coral than most others in my collection but it still packs a perky spring-appropriate punch. Gosh Primma Donna is a rusty burnt orange with shimmer that applies incredibly smoothly. I'd give this a go if you're not the best at painting your nails but still want something bright.
Eyes
When it comes to eyes, I'm all for piling on the colour. Peaches may seem daunting to many but it's actually very flattering on the common dull mulchy-greeny-grey eyes that I've been er, blessed with. Rubenesque Paint Pot by Mac is a golden shimmery coral base that I tend to wear alone, just blended past the socket of my eye. When I want the colour to be more noticeable, I apply Paradisco eye-shadow over it; the shade matches perfectly and functions to increase the intensity.
Will you be braving the brights this spring? Anything above take your fancy?