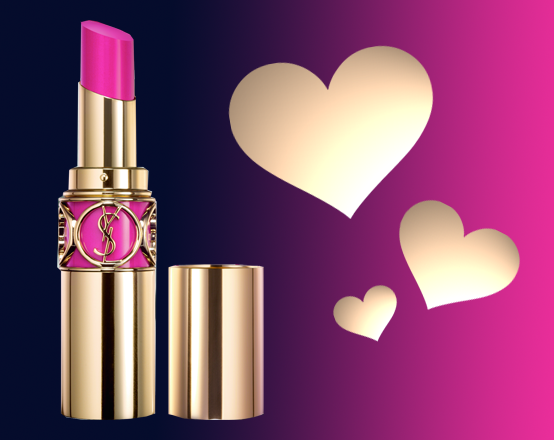 More of a new faithful really, as YSL's Rouge Volupte only landed in the last year, I don't know if my vocab is hyperbole-filled enough to laud this lip-smackingly good lipstick range.
Volupte is as volupte does: as the name suggests, the product provides full, creamy coverage that's super-cushiony to wear. It looks gorgeous, and it makes you feel FAHHHbulous.
And oh dear sweet fancy moses, the packaging. Ladies, it is a thing of OTT joy and wonder: sleek gold with curlicued embellishments, a little mirror on the top of the tube, and a superslim, angled lipstick bullet - truly, I am in product heaven.
Advertised
Colours are fashion-forward and edgy as well as subdued and wearable, so I reserve shocking shades like Orange Shiver and Extreme Coral for night, slicking on the very pretty Fetish Pink for day.  I regularly carry around about three of these babies in my bag (much to airport officials' annoyance), ready for all occasions.
This really is one of the best lipstick launches of recent years (along with Chanel's new Rouge Allure Lacque and Shiseido's Perfect Rouge) and at €29.50 each, yes, they are incredibly dear. YSL is a premium brand, though, and prices reflect that.  But this is one premium product I am happy to report delivers on all counts, making the cost justifiable.