 While researching unique beauty brands for my last post, Kat Von D Beauty was high up on my must have list. For those of you who don't already know, Kat Von D or Katherine von Drachenberg is an American tattoo artist, model, musician and television personality; she is probably best known for her work as a tattoo artist on the reality television show LA Ink.
In 2008, Kat Von D created and launched a makeup line for one of America's biggest beauty chains, Sephora. The range ended up doing so well, she has released new collections every year since its launch and has even since expanded into fragrances.
You can check out her website to see a full range of eyeshadows, lipsticks, palettes, and brow and nail products.
The product that stands out the most for me is her Lock-it Tattoo foundation.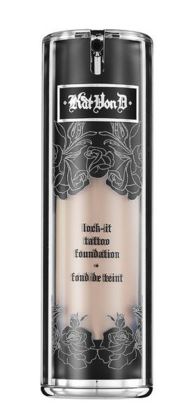 Advertised
This foundation creates the perfect canvas using only one pump to completely even out discolouration, stop shine, and hide blemishes. It's super long wearing and leaves your skin looking velvety matte even through the elements. It's also cruelty-free and vegan, two attributes I love to hear in a product line.
The sad part about this brand is that is it not readily available in Ireland - yet. There is a rumor that it will be launching this year in Ireland. Let's keep our fingers and toes crossed for the nation of Ireland having picture perfect flawless skin for 2016.
I listed nine more beauty brands you may not have heard of and never fear, I'll people telling you about all of them in the coming days.
Have you ever tried the Kat Von D range? Do tell.