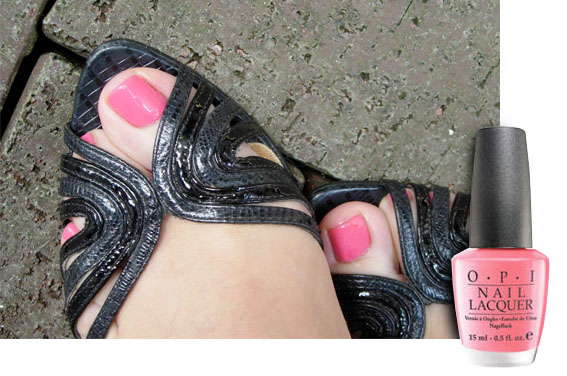 This won't be a shocker for most of you, but I can't remember the last time I was happy to leave well enough alone when it came to a manicure. For months now, no paint job has seemed complete to my eyes without a little something extra in the form of leopard print, glitter tipped, polka dot, heart, flower, or Hello Kitty embellishment (with Hello Kitty coming either in standard issue or leprechaun mode, obviously.)
Given that recent inability to go without some form of nail art, you can probably understand that it would take a really special nail polish to survive without adornment on my fingers. I wasn't expecting OPI's ElePhantastic Pink, €12.50 to be that nail polish when my broadband-less sister begged me to order it, her favourite shade ever, online. (It was a 2008 release that came out as part of the India Collection, and while it's not impossible to find in salons, it is more difficult to track down in person than other shades.)
ElePhantastic Pink looked as unremarkable on my monitor  as it did in the bottle when it arrived in the post: a nice but slightly boring and, well, tame bubblegum pink creme that I wouldn't have bothered my arse trying in a million years.
Swatched, however, it's an entirely different story.
It's bright and summery without being too loud or NSFW, and I received several random compliments and enquiries as to what it was when I wore it. It's also more complex colour than I initially thought: there is the eponymous pink in the mix, of course, but there's quite a bit of coral there too, and it leans to the slightly orange side of the spectrum in some light. It took me days to think what the colour of ElePhantastic Pink reminded me of, but eventually it came to me - it looks to me like honeysuckle, which is Pantone's Colour Of The Year for 2011. Hard to get more bang on trend than that, really.
Advertised
In terms of performance, it wore really well, lasting several days before the first chip appeared.
I only have two complaints about ElePhantastic Pink. The first is that it's quite sheer and I did have a somewhat visible smile line after two coats: a third coat would be a must for it to be truly opaque.
The second is that my sister didn't decide to give me the bottle I got for her, so now I have to go off and order another to call my own!
Psst: we have OPI stockists listed here.